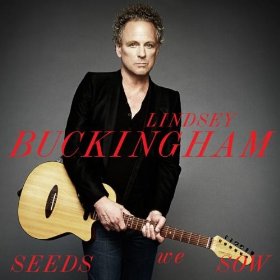 Lindsey Buckingham
Seeds We Sow
Mind Kit Records
If Lindsey Buckingham knew what was good for his solo career, he would tell interviewers, "I don't know if Fleetwood Mac will ever get back together again." Instead, every interview I've seen with him recently to promote his latest disc has found him touting a reunion of his longtime bandmates next year. If I was his latest album, I'd feel a tad neglected. But then again, Seeds We Sow has all the makings of a solo effort that's likely to be forgotten when Buckingham's catalog is discussed. For one thing, it's his first record on his own label, Mind Kit Records. For another, Buckingham recorded, performed, and produced the record mostly by himself at home. While his impeccable musicianship and normally unerring good taste mostly shine through as always here, the record does have a homemade, DIY sound that while successful on some tracks, doesn't do any favors for others.
The opening title track and "Stars Are Crazy" are all layered, cascading, acoustic guitar arpeggios akin to the Fleetwood Mac track "Big Love." "Rock Away Blind" has some throwaway lyrics but uses the same sound to build a cool groove around which Buckingham can riff. The guitars on the more show-offy "In Our Own Time" sound like a string section on the chorus.
The strongest tracks here though are "Illumination" and "That's the Way that Love Goes." The former is a pretty swell, catchy pop song on which Buckingham sings, "I've got a bad reputation / Do you have something to hide? / Ooh, it's such a strange sensation / When you finally open up your eyes / One less life to believe in / One less trick of the mind / The process of illumination." The latter has a killer, punchy chorus to recommend it.
"When She Comes Down" begins with a very 1980s drum machine and keyboard sound before expanding into a more full-bodied arrangement with some terrific vocals.
It's another cheesy drum machine beat that nearly ruins the oddly cheery "End of Time." "It's the end of the line / It's the end of time," Buckingham sings. Come to think of it, "Gone Too Far" has a rather dated sound to it as well.
But the album's nadir is the terrible "One Take," which finds Buckingham kinda angry about, um, something. Solo power chord verses alternate with a chorus rhythm borrowed from the '80s band The Woodentops before yielding to a wank-a-thon electric guitar solo. "I'm just another madman / looking for another fall," Buckingham sings. "And I've got to make a killing 'cause a journey of a billion always starts with something small / I'm just another madman / I turn it off, I turn it on / And I won't be denied, no I won't be satisfied / Until the middle class is gone."
Fortunately Buckingham rights the ship for a set-closing solo acoustic cover of The Rolling Stones' Between the Buttons deep cut "She Smiled Sweetly."
Y'know, I worry that for an entire generation, Lindsey Buckingham will forever be known as that guy who is never allowed to say anything on that silly recurring Saturday Night Live Kenan Thompson skit, "What's Up With That?" Buckingham showed what a good sport he is last season, appearing alongside the SNL-er who regularly portrays him, Bill Hader. But who knows, maybe a few regular viewers of SNL will find this record and discover Buckingham really does have something to say, if given the chance.
Is there anything on his latest solo disc to rival the greatest hits of Buckingham's day job band? Maybe not, but fortunately they're getting back together again next year. Perhaps you've heard?
Lindsey Buckingham: http://www.lindseybuckingham.com
---