Dan Sartain
Double Down Live, Gainesville, FL • October 19, 2011
Matthew Moyer
Okay, here's the deal: when you go to a concert with the double bill of Reverend Horton Heat and Supersuckers, you pretty much know what to expect. It's like a KISS show for the old 120 Minutes crowd – all the necessary high points will be hit, and the show will unfold much in the way you remembered it, a decade or two ago. And that's cool; you're here for the entertainment, the spectacle, the excitement, the way it used to be.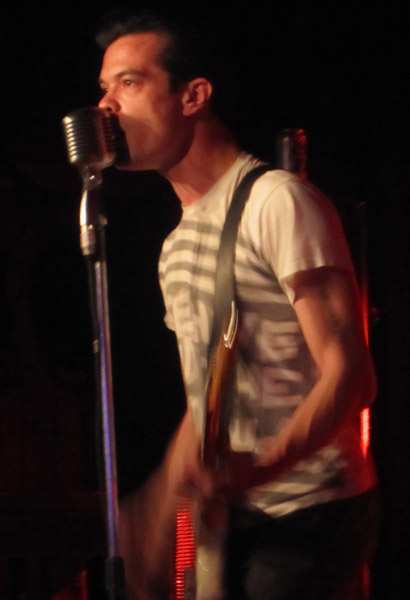 But do you know what's even cooler than that? When a stick-thin, quiffed, venomous lookin' thug struts onstage with a nerd covered in tattoos on bass and a shaggy-haired drummer and starts running through rapidfire, jet-fueled, Sun-Studios-meets-Cramps haikus. One after the other, boom, boom, boom. The trio of reprobates don't even bother to introduce themselves, and just keep vomiting out this antisocial Rockin'-Bones-on-speed gold in front of maybe ten hardcore freaks and a buncha bemused Horton Heat faithful who are just trying to decide on which t-shirt to buy in peace.
'Cuz see, what's even cooler than seeing it again just like you remember it is being confronted with the x-factor, the totally unfamiliar, the primitive and raw, and it proceeds to knock you on your ass. And both of those are reasons why Dan Sartain was the best thing to hit the stage tonight.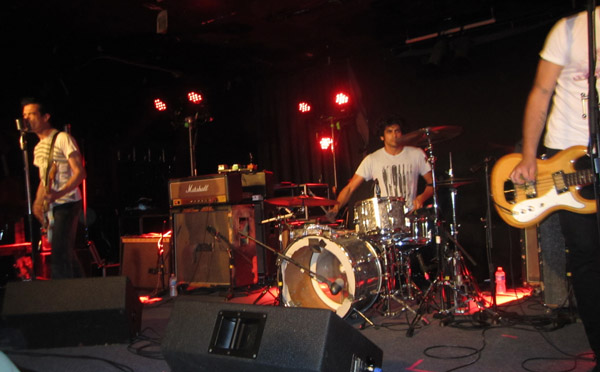 Sartain, possessed of the vampiric bad looks of Birthday Party-era Nick Cave and a young Hasil Adkins, is the real deal: a young garage/rockabilly madman with a seemingly bottomless bag of tunes that shimmy, shake, and scream. Live, Sartain is even more immediate than on record, white-knuckling his guitar through two-chord sprints, barking out his lyrics like early Misfits while his band holds it down with a spastic four-to-the-floor. The only thing that separates one song from another is a yell of "1-2-3-4" – the set is jarring, with Sartain's already lean sound stripped to its barest essentials, all sharp edges and itchy nerves.
The music lasts for a total of about twenty minutes, before Sartain stalks offstage, followed closely by his rhythm section, to put on a leather jacket and get a fuckin' beer. I didn't recognize one goddamn song, which was odd, I thought to myself. Later, the bassist casually told me, "Yeah, we just played the new (unreleased) album from start to finish." Fuck. Yeah.
Dan Sartain: http://www.dansartain.com ◼
---