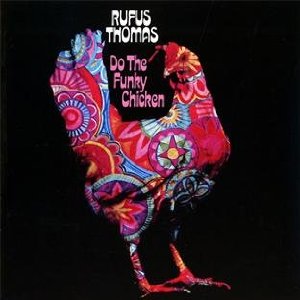 Rufus Thomas
Do The Funky Chicken
Stax
We ain't got no hippies down in Mississippi/ But we're funky just the same ~ "Funky Mississippi" by Rufus Thomas.
Nobody is gonna sue Rufus Thomas for false advertising. I doubt Thomas could walk to the mailbox and not make it funky. Take a listen to his first hit, "Walking the Dog" from Stax in 1963. Funky. With its low-down guitar atop a New Orleans beat, it defined funkiness, and Thomas never looked back, racking up hit after dance-floor filling hit. By the time of Do the Funky Chicken in 1968, Thomas was considered "old school" at Stax. But you can't tell it from the grooves. This is primal funk. From the relentless beat to the commanding vocals, Thomas wasn't growing old gracefully. Hell, he makes "Old McDonald Had a Farm" sound like James Brown, and his version of "Hound Dog" – called "Bear Cat" – is pure sex, leaving Elvis in the dust.
Do the Funky Chicken launched the second wave of Rufus Thomas's career and got him back on the charts. This expanded edition features eight extra cuts recorded at the same time with Booker T. & the MG's backing him up. Can't get much funkier than that. Those listeners who spend all their free time cratedigging to find the gems that make you "move your rump" will do well to put this in the rotation. Because when Rufus Thomas tells you to dance the Funky Chicken, or the "Itch and Scratch," it ain't a suggestion. It's a funkin' order!
Concord: http://www.concordmusicgroup.com
---