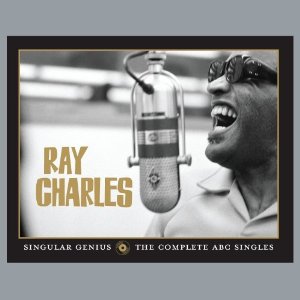 Ray Charles
Singular Genius: The Complete ABC Singles
Concord Music
It would be impossible to overstate the impact of Ray Charles. The term "genius" was applied to him early, and for once it's not hyperbole. From his remarkable voice to his soulful, energetic piano, his wonderful way of approaching material, he could truly do it all. This five-CD collection, spanning from 1960's "My Baby (I Love Her Yes I Do)" to 1973's version of the Johnny Cash classic "Ring of Fire" shows Charles in all of his guises. From the smooth crooner of "That Lucky Old Sun" to his refined country and western records, including "I Can't Stop Loving You" or Buck Owens' "Together Again," Charles seemed comfortable whatever genre he chose to pursue.
The years Ray Charles was on ABC-Paramount saw him taking tremendous strides past the eight-piece band playing rhythm and blues of his time at Atlantic, although he never forgot his roots. "Hit the Road, Jack" or "I've Got a Woman" attest to that; soulful funk remained a mainstay of his style until the end. Even his middle-of-the-road material maintains a bluesy aura; take "Georgia On My Mind." Despite being surrounded by strings, Charles captures the wistfulness of memory and longing in his stirring vocals – "Just an old, sweet song" indeed.
This box set is a worthy addition to the already numerous Charles collections out there. It contains each single he released for ABC, and the 47-page book includes complete session information on each record, as well as an informative look at this era from Billy Vera. Now, five CDs worth of Ray Charles might look like a daunting task to take in, but if you're like me, one song leads to another, and you remain astounded by his sheer talent as you revel in – well, what other word will do, but genius. He could truly do it all, and this collection of 106 cuts proves the point definitively. Essential.
Concord: http://www.concordmusicgroup.com
---