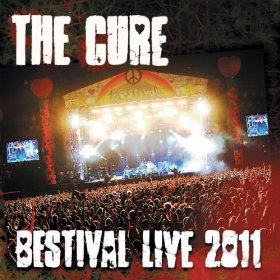 The Cure
Bestival Live 2011
PIAS America
For the past decade or so, more and more indie bands have been reforming for at least a tour or two, focusing on recreating an essential album or performing a "greatest hits" live set. Sure, you could call this approach nostalgia or wheel spinning, but it cuts down on bathroom or beverage breaks when you hear, "This is a new one," while you're waiting for "Bela Lugosi's Dead" or "Where Is My Mind," and it gives both band and audience a chance to appreciate songs that never got as much play as they should, played in front of an enthusiastic audience.
And when done right, it can remind listeners of just why they spent so many hours parsing lyrics or replaying albums in their youth anyway.
Rather than recreate a certain album, The Cure played a 32-song sampler reaching through their extensive back catalog for 2011's Bestival festival in the Isle of Wight. Granted, most live albums are "you really had to be there" affairs, but the double CD issued from the set is an excellent starting place for a casual fan, or a reminder to a dedicated fan of just how many amazing songs the 35-year-old band actually has.
---