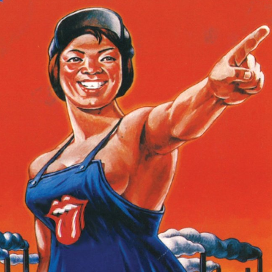 Some Girls Live in Texas '78
directed by Lynn Lenau Calmes
starring The Rolling Stones
Eagle Rock Entertainment, Ltd.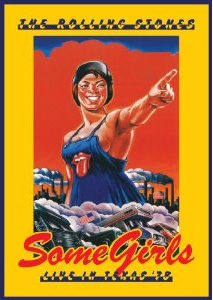 Sixteen years almost to the day of their first performance at Marquee Club in 1962, The Rolling Stones roared into Dallas in 1978 a band restored. Three years into the Ron Wood era, the group had released Some Girls a month before, their last true masterpiece. Keith Richards was clean (but definitely not sober… ), having put the arrest for heroin in Toronto behind him. Taking a number from their early days, the show starts with Chuck Berry's "Let It Rock," followed by an explosive "All Down the Line" from Exile. By the time the third number – a swaggering "Honky Tonk Women" – comes to a close, you can almost catch your breath.
Almost. After a romp with "Star Star," the band runs through seven numbers from Some Girls. It is during "Beast of Burden" that the band finds its groove. The interplay between Richards' guitar and the snare drum of Charlie Watts is the musical foundation for the song, and when Jagger delivers the song's penultimate line – "You keep on telling me I ain't your kind of man" – you know why they're called "the greatest rock and roll band in the world."
The show is held in the 3,000-seat Will Rogers Memorial Center, where the band strips away the giant phallus and over-the-top stage production of past tours and forces you to focus on the music. There are no horns, and the only additional musicians are long-time Stones piano player Ian Stewart and Ian McLagan, a former member of The Faces with Ron Wood, who joined the group a few days before the tour on organ.
There are moments in this show when the energy is palpable, and you feel as if you're onstage. The chemistry among the Stones is both unconscious and informed. They had been playing together for all of their lives, and it shows. When the evening ends with "Brown Sugar" and "Jumpin' Jack Flash," there can be no doubt of what you have witnessed – the triumphal statement of a band alone at the top. By the time of this show in 1978, the Stones were supposed to have been lackluster prima donnas, drug-addled and past their prime. As this brilliant performance shows, nobody told the band. Exquisitely rendered on Blu-ray, with a DTS-HD soundtrack, this is as good as it got for the band. And when The Rolling Stones were good, they were very, very good.
The Rolling Stones: http://www.rollingstones.com • Eagle Rock Entertainment: http://www.eaglerockent.com
---