The Richard Thompson Band: Live at Celtic Connections
Eagle Rock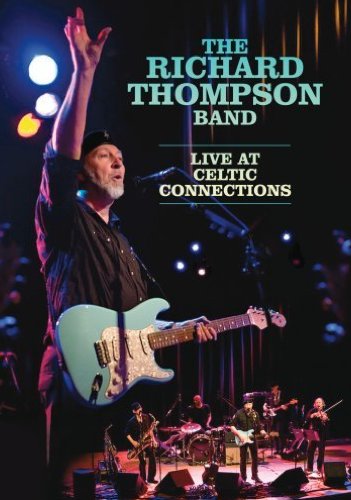 The initial signs are dire. A wide-angle shot of the audience catches row after row of bald pates, comfortably seated, every last one most likely outfitted with two (count'em, two) leather elbow patches, looking more ready to bury Richard Thompson (reverently of course) than praise him. And then out comes fucking "Whispering" Bob Harris – last seen castigating the New York Dolls as "mock rock" in the late Seventies – to introduce Thompson. It's museum rock from here on out. Except someone forgot to tell Richard Thompson that. He strides out in a slim-fitting black wardrobe, dandy scarf knotted around his neck, and the dad-ified beret that he's been wearing for a decade or so now suddenly looks instead like something that Che Guevera would wear. I'm heartened to see that visual extremity, the sharp edges, the air of anything goes that Thompson exudes, subtly striking back against a room full of people, hell, a whole record industry that wants him to be a good li'l nostalgia act.
It's tough being Richard Thompson. On the one hand, he's known as the "guitar player's guitar player," which would automatically make most musicians colossal douches (Steve Vai, Paul Gilbert) and/or terminal bores. On the other hand, he both helped invent electrified folk rock with Fairport Convention AND created one of the singularly great bitter breakup albums of all time with Shoot Out the Lights, which he is no doubt expected to relive during every single concert… what I'm saying is, he has a whole load of albatrii around his neck. Luckily he decides to disregard the past and stay firmly rooted in the now with a sparkling set of new songs. And, oh yeah, bait the audience just a bit, wryly noting the paucity of applause when he mentions his new album.
Actually he's damn witty; poking fun when someone cries out "Ashley Hutchings," only momentarily caught off his game when it turns out that Hutchings IS actually in the audience, noting the cheeriness of the murder ballad ("Sidney Wells") he's about to rip into, getting in a few digs at bankers (!!), and just generally throwing out surreal aside after surreal aside. Far more germaine for the purpoes of music writing, both his voice and guitar-playing are still in fine form, too. The new songs are spry and serviceable, if a good deal less enjoyable than classic albums like I Want to See the Bright Lights Tonight and Mirror Blue. His backing musicians look like a bunch of college professors and often worry the songs to death with overplaying, but Thompson's evident passion for writing and playing his songs carries the day. Affecting readings of classics like "Wall of Death" and "A Man in Need" are worth the price of admission and one feels none of the withering contempt that his folk-rock transatlantic peer heaps upon his audience. He wears advancing age as well as he does that guitar around his neck.
BeesWeb: http://www.richardthompson-music.com
---