Rodrigo y Gabriela and C.U.B.A.
with Brett Dennen
Radio City Music Hall, New York City, NY • 4/20/12
May Terry
"Chinga! These two are puro fuego!" I exclaimed after first hearing Rodrigo y Gabriela's recorded live performance of "Tacamun" on their 2011 album, Live in France. It's with this same enthusiasm that I walked through the front doors of Radio City Music Hall to see the Mexican duo's sold-out show.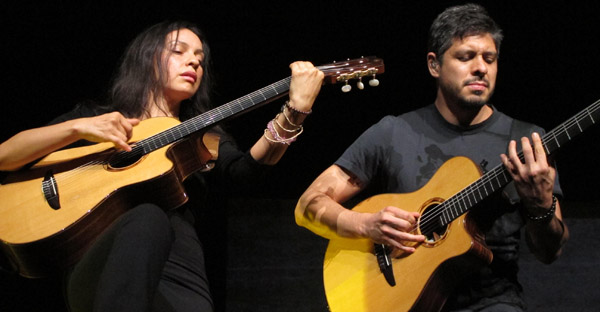 Fans tracking Rod y Gab's musical gumbo of mexi-metal-flamenco styles can easily see their evolution from street musicians in Ireland to a yearning for exploring other musical styles and venues, as the two recently demonstrated by playing with an orchestra in the Hans Zimmer scores for the Pirates of the Caribbean soundtrack. Now, promoting their latest album, Area 52, select songs from the first two Rod y Gab albums have been rearranged with a 13-piece Afro-Cuban jazz band to be played live. This musical side-project, which started in Havana, grew enough interest to bring the whole band out on the road for the latest tour. And why not? With no new songs, how long can this duo perform the same show?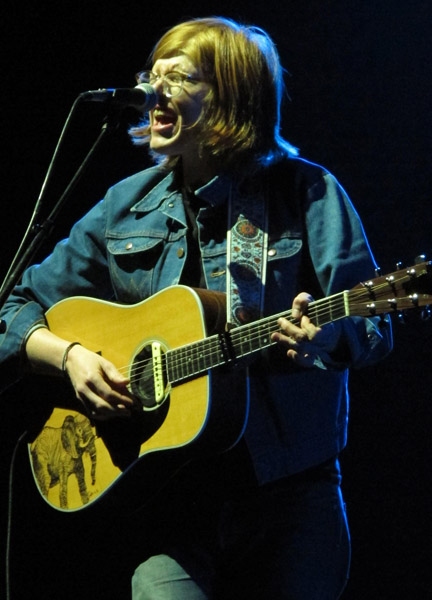 The uneventful opening act award of the night probably went to the folksy ginger-kid, Brett Dennen. Armed with an acoustic guitar and his self-fueled enthusiasm, his heartfelt and introspective set lasted less than 30 minutes and played to a sparse audience. Most attendees were in line at one of several bar stands that served mixed drinks with nifty novelty blue glow-stick stirrers. It was an unfortunate pairing of an opening to main act, since Dennen's brand of music deserved its own audience.
Following a lead-in song from Tool, the C.U.B.A. band members and Rod y Gab walked on stage with the brass and horn of "Santo Domingo" wailing, drums and bass pounding the back-beat, and everyone setting up the introduction for Rodrigo's main melody.

The audience at first politely took it all in – nothing like the rabid clapping and stomping so clearly heard on Live in France, where you sensed the uncanny energy of an excited crowd of people, often found stomping and clapping with raw hands and sore feet throughout the tribal, communal event. I questioned whether this 13-piece band would take away from the musical intimacy and synergy that the duo was so able to masterfully conjure in the past.
When the band joined in, the duo settled into the background, generously handing the spotlight on many an occasion to C.U.B.A. band members. With that, C.U.B.A.'s bass player gave an impressive vocal scat singing solo accompanied by his five-string bass. The guy who played the tres (a variation of the guitar with alternate tuning that is played with Cuban music) should have had a short solo – to share with the audience what his funny looking guitar can actually do – because, as it was, most people barely knew he was there.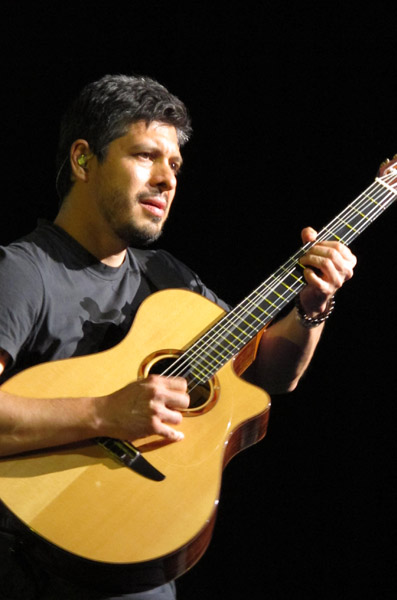 The credit for all the arrangements on Area 52, and for this tour, goes to Alex Wilson, the piano/keyboard player on the tour. The harmonies are really well arranged, and clearly showcase Rodrigo, whose nylon and electric guitar solos were well complemented by the horns and sax. The arrangement of "Logos" reveals an emotive musical interplay between guitar and piano, and a welcome change to many of the high-energy songs in the set.
On the other hand, Wilson's arrangements could have been better for Gabriela, who, with the full band, blended into obscurity during the biggest song breaks. I would have liked to have heard a trading fours between Gabriela and the C.U.B.A. rhythm section. Instead, Gabriela's rhythms could barely be heard over the drums and percussion – a clear compromise in not showing off that amazing wall of sound that Gabriela provided out of only one nylon guitar. Fans expecting more may have been disappointed.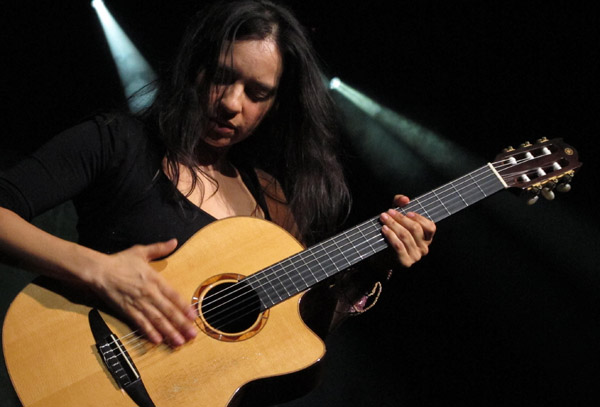 Fret not, you loyal fans who longed for the old show, you would have been appeased one-third of the way through the concert with a Rod y Gab segment of songs sans big-band. "Buster Voodoo" ignited the crowd, who settled comfortably back into the clap and stomp energy typical of their past live performances. This was followed by the solos from each, just as you heard on the live album. "Savitri" turned up the phasers on both guitars with frantic rhythms that packed a wallop of jaw-dropping astonishment as the whisper of "wow" seeped from my lips. Gabriela, with her endearing mousy demeanor, drew loud cheers as she displayed a furor behind her strumming patterns using that awesome right hand guitar technique that uniquely characterizes her sound from other rhythm guitar pounders out there, like Ani DiFranco. Rodrigo overwhelmed with his rapid-scale runs reminiscent of acoustic fusion guitar great Al Dimeola. The duo knows how to work the crowd. Yes, this was the show that I and many other rabid fans wanted to see. I could have walked out then and there, and felt that it was worth every penny I paid for my cushy seat on 14th row center.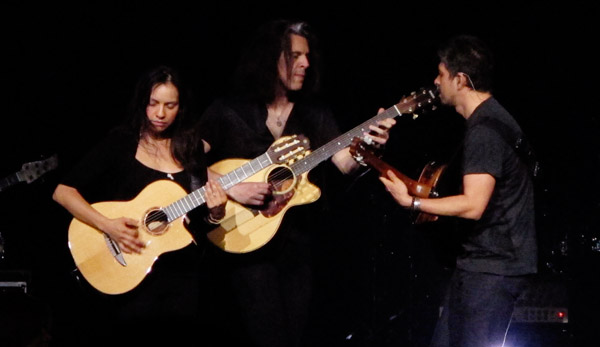 Toward the end of the concert, the audience warmed up to all of C.U.B.A.'s musicians, as noted by several cheers following a second round of vocal scats over bass melodies and another conga drum solo from the drummer. Re-asserting their original influences in heavy metal, Rod y Gab closed the show with some special appearances, also typical of past performances when metal-heads like Robert Trujillo of Metallica joined them on-stage. This time, John Tempesta, drummer from White Zombie and contributor to some of the arranged tracks on Area 52, took the back drumset for a repeated performance of "Hanuman." Alex Skolnick, guitar shredder from the '80s thrash metal band Testament, then joined the duo with a 5/4 variation of the lick from 11:11 (which itself is in 11/8 time… explain that one) that transitioned to their cover of "Take Five" along with the rest of the C.U.B.A. musicians.
The Area 52 Tour is overall a genuine sharing of the duo's musical evolution with its fans, while still giving them what they wanted to see. I did leave wondering whether we would eventually get any new songs, or rather be relegated to future re-creations of a now aging repertoire of originals. I'll hope for the best in new material as this tour winds down. In the meantime, I encourage fans old and new to embrace the duo's stretch into a richer and fuller sound. The reward is still a highly charged and thoroughly entertaining time.
Rodrigo y Gabriela: http://www.rodgab.com ◼
---