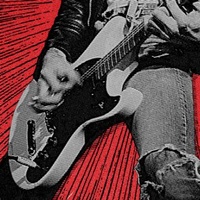 Commando : The Autobiography Of Johnny Ramone
by Johnny Ramone
Abrams Image
"We sent five of the songs we recorded to record companies, and they quickly sent them back. You could see that the tape was rewound after they had only listened to half a song. They never even bothered after the first thirty seconds. We never even considered that the music was seriously whacked or anything."
John Williams Cummings, aka Johnny Ramone, was the leader of The Ramones, and his story, like his music, is short, aggressive and takes no prisoners. From his early days in Long Island where he developed his life-long passion for baseball, Elvis and horror movies, to his battle with cancer that ended his life in 2004, he never flinches when recalling his past.
There have been loads of books by and about the Ramones, and the band is more popular now than when they were together. You read a few of them, and you quickly surmise the glue that held them together – and it wasn't Carbona. It was Johnny. Early on he saw them as the greatest band in America – and for those first four albums- Ramones in 1976, Leave Home in 1977, Rocket To Russia, 1977, and Road To Ruin, 1978 – he was right. Nothing prepared you for The Ramones. An entire set was 15 minutes, the songs were under two minutes of blinding aggression, wrapped up in a Sixties pop sheen. From day one, Johnny thought of the band as a job, only instead of the shovel he carried working construction, he carried a guitar and played CBGBs.
He was a conservative in a industry of liberals, a two-beer-a-night guy surrounded by drunks, and carried a baseball guide on the road to show him where he could watch a game in whatever town they were in. He didn't "get" Joey, his hirsute singer, and for the most part they didn't speak. He casually mentions the fact that bassist Dee Dee didn't play on the last three albums he was credited for, and when he speaks of the band's latter period he is quick to say the records "weren't good", and is withering in his assessment of his band mates. He and the band didn't really fit in with the New York scene of the late '70s, and he had no affection for fellow pioneers such as Blondie (Just some pop group) or the Talking Heads – Tina Weymouth really got on his nerves. But as long-time pal Lisa Marie Presley says in the Epilogue, "He was grouchy" – and a dear friend.
Johnny Ramone made The Ramones what they were: legendary. He did it with unmatched intensity and an eye on the bottom line. He did it unapologetically, much like his autobiography. Highly recommended.
Johnny Ramone: http://www.johnnyramone.com
---