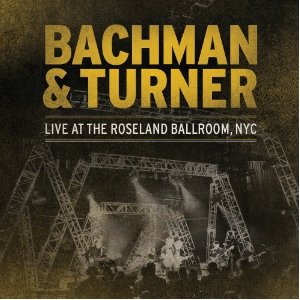 Bachman & Turner
Live at the Roseland Ballroom, NYC
Eagle Records
During the early and mid-1970s, few rock bands enjoyed the mammoth success of Bachman Turner Overdrive. Universally adored by fans, yet generally panned by critics, the hard-rocking, guitar-driven Canadian quartet sold millions and remains as much a staple on Classic Rock radio as The Stones, Zeppelin, Aerosmith, and other acknowledged biggies from that era. And although the recent reconnection of the group's two leading namesakes and chief songwriters doesn't quite pack the punch of the full-blown band reunion that many longtime fans may have hoped for, this live, double-record set is still quite a treat.
"We are back!" legendary guitarist and vocalist Randy Bachman enthusiastically announces early in the set. And from there, nearly two hours worth of non-stop, true blue, classic-style rock and roll ensues. Bachman and his partner, bassist and vocalist C.F. Turner, lead their all-new rock-solid band through numerous chartbusting BTO anthems such as "Let it Ride," "You Ain't Seen Nothing Yet," "Roll on Down the Highway," and their signature hit "Takin' Care of Business" as well as several fan favorite deep cuts, including "Rock is My Life," "Not Fragile," and "Blue Collar."
Clearly moving forward, Bachman & Turner successfully minimize the nostalgia factor by also offering several selections from their self-titled 2010 debut, including "Waiting Game," "Moonlight Rider," "Slave to the Rhythm," "That's What it Is" and "Rollin' Along."
Kudos to producer Gilles Paquin for helping to create a surprisingly fresh-sounding, quality record. Also a tip of the hat to legendary special guest Paul Shaffer for contributing his signature keyboard work. And in a day when it has become something of a popular catch phrase among hard core rock enthusiasts, rest assured that drummer Marc LaFrance provides "more cowbell!" in abundance throughout.
In short, this is a fun record, crammed with high-energy rock, both old and new – truly worthy of addition to the personal collections of BTO fans worldwide.
Bachman & Turner: http://www.bachmanandturner.com
---