Wild Flag
with Mission of Burma
Prospect Park Bandshell, Brooklyn, NY • 8/3/12
May Terry
What do speed-dating and today's musicians' side-projects have in common? Both meet in a short, chance encounter, where a timer is set for a couple to share ideas and check each other out before moving on to the next person or thing. But after doing it enough times, you eventually run into the same people. And while side-projects can be hit-or-miss, sometimes bands whose members beget other bands will create something good. Enter Wild Flag.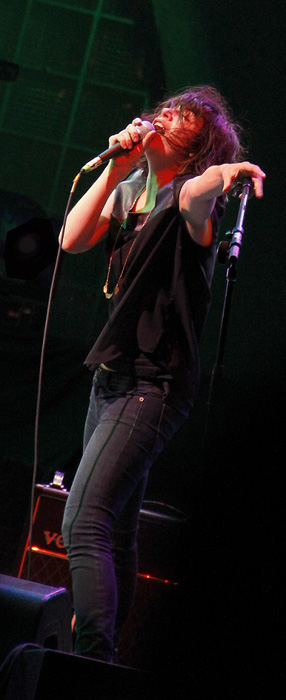 Feel free to disagree, but let's just admit that Wild Flag is indeed a supergroup, at least as far as '90s female-led indie-rock bands are concerned. The post-punk fab-foursome of Carrie Brownstein, Rebecca Cole, Mary Timony, and Janet Weiss weaves a rather tangled web of side projects that can also read like a telenovela:
Carrie and Janet were both in Sleater-Kinney, but while Mary was in Helium, she and Carrie hooked up to form The Spells. Meanwhile, Janet also co-founded Quasi, which at one point included Joanna Bolme from The Minders, where Rebecca also played keyboards. And at one point, Janet hooked up with Rebecca to play in a local cover band, The Shadow Mortons.
Wild Flag's self-titled debut album was released last year, and was followed by a tour that went through last spring. Unfortunately, Wild Flag is not actively doing a promotional tour, narrowing down their performances to a couple of select events. It was perplexing why this performance suddenly cropped up. Maybe it's because NPR was one of the Brooklyn Arts Media sponsors, and it's no coincidence that Carrie has ties through the Monitor Mix blogging days for public radio. In any case, this free – yes, FREE – concert in Brooklyn's Prospect Park Bandshell was a scrumptous treat of Riot Grrl goodness!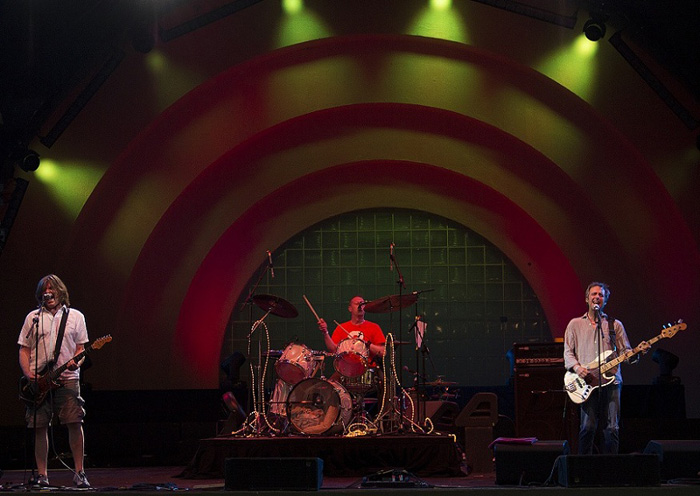 Before the Wild Flag headline, post-punk veterans Mission of Burma started their set. With their latest album, Unsound, released this past July, the power trio of Roger Miller, Clint Conley, and Peter Prescott demonstrated with raging force that they can still rock hard even three decades after Signals, Calls, and Marches was released in 1981. The Bandshell had a fair number of attendees there to just see MoB, and by the end of their set, I'm guessing that some new converts will be checking out older albums like Vs.
But the night clearly belonged to Wild Flag, who came onstage at around 9:30pm, opening with "Glass Tambourine," followed by "Electric Band," and "Future Crimes."
Wild Flag is a fresh fusion that blends the hard edge and united vocal chant typical of Sleater-Kinney, the ethereal and psychedelic bend from Helium, and a retro indie-pop sound from The Minders. Their vocal harmonies for the most part worked well (with the exception of a couple of pitchy spots, but hey, it's rock, not classical), and their playing was highly complementary.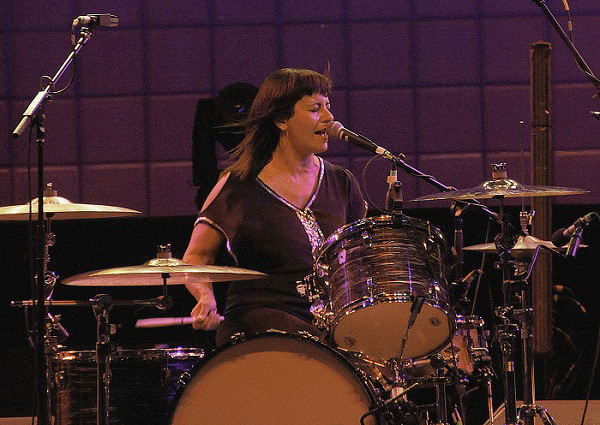 Janet's thunderous drumming forms the backbone for most of Wild Flag's sound, and worked great with Rebecca's use of the lower notes on the keyboard to fill in bass lines. Carrie's wound-up and jagged guitar style funneling a dirty distortion oftentimes was front and center, but Mary's more refined and cleaner guitar sound deserves its own listen as she often uses techniques that work for the song without being overbearing. It was tough to see the stage sitting from a distance, but Mary's melodic riff played through guitar tapping on "Short Version" was brilliant. Another great bonus is to hear Mary sing the unreleased Wild Flag song, "Nothing," that really should have been added to the debut album as another bonus track – maybe for the second album? [Wink, wink, nudge, nudge?]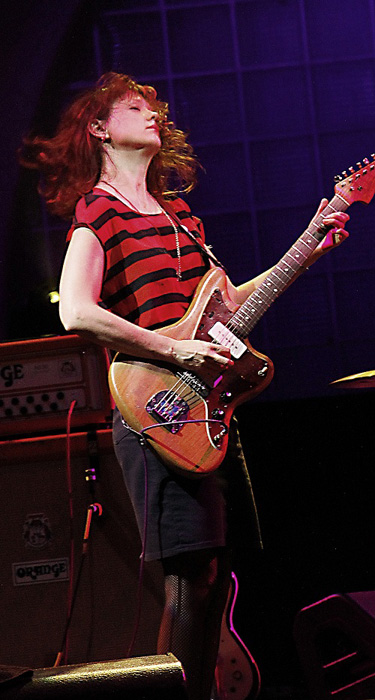 Visually, there's a lot of jumping and head-bobbing from all the band members to keep the energy up on their more driving songs, but the spotlight mostly shines on Carrie's eye-catching onstage moves which seem to draw from a lot of either taped or live concert footage of classic and punk rock bands. There are the Jagger-esque hand-on-flank poses without her guitar, Pete Townsend windmills with the Gibson SG in hand, and spastic head turns, jumps, and high kicks seen in countless punk rock concerts.
"Racehorse" rocks like a Sleater-Kinney song, with frantic keyboard passages during the solo, and was Carrie's cue to strut her bad-self over center stage, literally stand on the bass drum, and hold the guitar up way above her head like the statue of liberty. The crowd went wild as a sea of iPhones suddenly showed up for photo ops. Undoubtedly, Carrie gets an "A" for working the crowd.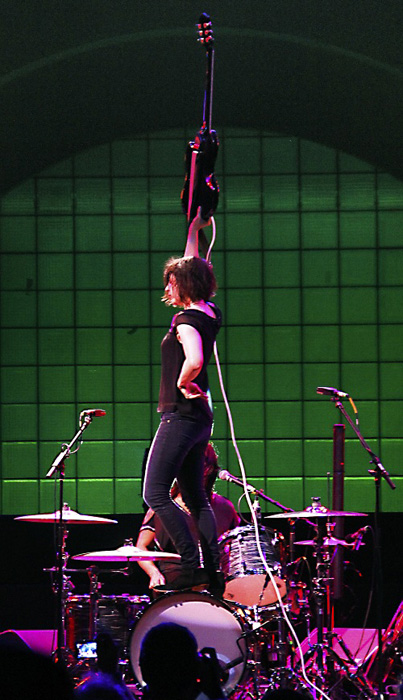 A cute moment came next when the band asked the crowd to sing "Happy Birthday" to Rebecca and it was easy to see a modest and slightly embarrassed, but touched look on her face. This led into the breakout track of the album, "Romance," which ended the set.
Wild Flag then returned to stage for the encore and performed two covers that they've done on past shows – Television's "See No Evil," and Patti Smith's "Ask The Angels." The entire Wild Flag set was only an hour and fifteen minutes, and leaving still amp'd from such a great performance, there was a yearning to hear more. Then again, what more could one expect for free?
With the acclaim and awards from the IFC series, Portlandia, a book deal with Ecco/Harper Collins, and hints of a possible Sleater-Kinney reunion somewhere down the road, Carrie Brownstein has her dance card full, and with Mary in DC, thousands of miles from Portland, I wonder what the future holds for Wild Flag. Is this a one-time deal, or will we see more of this talented group? Let's hope for the latter. Someone set that speed-dating timer for another 15 minutes, because we're not done yet.
Wild Flag: http://wildflagmusic.com ◼
---