Adam Ant and The Good, The Mad, and The Lovely Posse
Hard Rock Live, Orlando • September 29, 2012
Michael Crown
It seems almost impossible to believe, but "Antmania" is alive and well more than 30 years after it started. For the unfamiliar, Adam Ant emerged from the fertile early '80s English music scene with a unique style of Glam Pop Punk that took the charts by storm. The original Ants were lured away by Malcolm McLaren to form BowWowWow and a number of lineups followed, with guitarist Marco Pirroni being the closest thing to a constant. His success fueled in no small part by his personal appeal as a natural Pop Star and his provocative sexuality, Adam Ant sold millions of records, had multiple Top 40 hits, was nominated for a "Best New Artist" Grammy, and was voted "Sexiest Man Alive" by MTV.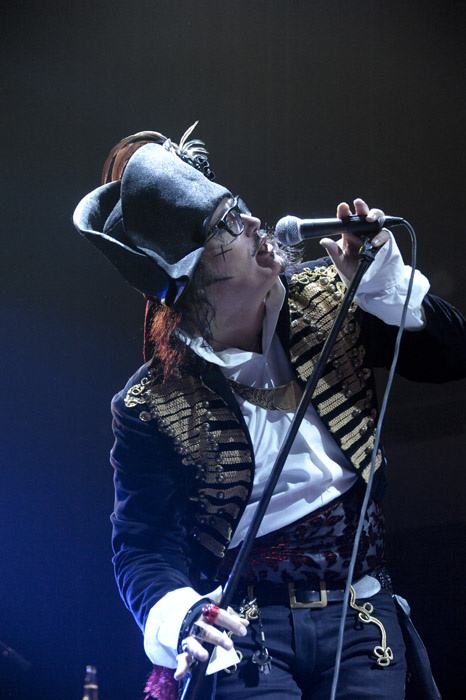 While I was never enthralled by Adam's image and persona, I always admired his propulsive riffs, tribal double-drummer percussion, and lean, punkish arrangements. After many years and a well-publicized history of personal instability, the obvious question was how much of the original mojo would the man have on tap. These nostalgia tours are almost always entertaining, but unfortunately not always in the way the artist intended.
We arrived at the Hard Rock Live to an enthusiastic, sold-out audience. I was immediately impressed and, admittedly, surprised by both by the size and the level of excitement of the crowd. This would have been a great turnout for a band at the peak of its popularity, let alone 30 years down the road. This was the first time I realized I had seriously underestimated Adam Ant. There would be many more as the evening progressed.
It was clear from the start that Adam was on his game and in command. While probably somewhat subdued relative to his early days, he brought the moves that his fans were there for, and his voice was as strong as ever. With the exception of the awesome double drumming, the band lineup was standard guitar and bass with Adam on an occasional second guitar. Unfortunately, no Marco Pirroni, but the outfit was tight and well-rehearsed, executing with solid precision. I was particularly impressed with drummer Jola Rodowicz, whose tall beehive hairdo barely moved as she pounded mightily. Joining Adam on backup vocals was Georgie Girl (aka Georgina Baillie), who some may know for her association with a recent BBC Radio scandal involving Russell Brand. She did a great job and provided a little eye candy for the folks who weren't there to watch Adam.
Adam and his crew kept the energy level high through a 23-song set spanning his entire career, and made sure that all the hits were covered. Occasionally pausing to thank the audience for returning the energy, he seemed to genuinely appreciate the response. Highlights for me included "Deutscher Girls," "Stand and Deliver," "Desperate but not Serious," "Antmusic," and, of course, "Goody Two Shoes." The raucous crowd demanded an encore, and Adam obliged with four more songs, featuring a T-Rex medley of "Bang a Gong" and "20th Century Boy." Nothing could have been more appropriate.
Adam Ant and The Good, The Mad, and The Lovely Posse: http://adam-ant.net ◼
---