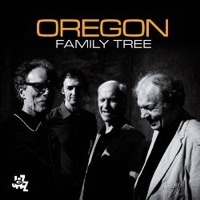 Oregon
Family Tree
CamJazz
Since their founding in 1971 after working with Paul Winter's Consort, Oregon (Ralph Towner on guitar and piano, Paul McCandless on horns, Glen Moore on bass, and the late Colin Walcott on percussion and sitar) have remained uniquely undefinable to this day. Their blend of jazz, world music, and quasi-folk sounds like no other.
In the early days, it was Towner's classical guitar paired with Walcott's tabla and sitar that drove the music, but Walcott's tragic demise in a car wreck while on tour in 1984 ended the group for a while, only to resurface with Trilok Gurtu for a time. Today the drum seat is occupied by Mark Walker, and while longtime fans miss the interplay between the jazzy nylon string guitar work of Towner and the Indian influences of albums such as 1973's Distant Hills or the magnificent Out of the Woods from 1978, the group continues to amaze decades later.
Family Tree, their 28th release, finds Oregon still restlessly imaginative, with McCandless's oboe answering Towner's melodic guitar and piano on the record's 12 cuts. Glen Moore's bowed bass lines center the track "Moot" before Walker's drums set up the rest of the cut, and Towner chimes in with a nod to Brazilian bossa nova guitar a la Joao Gilberto or Jorge Ben. Terrific stuff, and it defines the Oregon sound – a little bit world music, filtered through the acoustic jazz that is the group's hallmark. "Jurassic" blends aching horn work over an ominous synthesizer base, but never strays too far from their strengths.
For over 30 years Oregon has, in the words of Ralph Towner, "thought of themselves as a small orchestra." Small in number, perhaps, but as Family Tree amply illustrates, huge in invention and ideas. One hopes they will continue another 30 years!
Oregon Band: http://www.oregonband.com
---