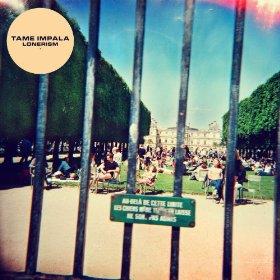 Tame Impala
Lonerism
Modular Fontana
Some bands take quantum leaps musically and artistically between albums and avoid the dreaded sophomore slump thanks, in large part, to the introduction of a new producer. Think of the leap from Mellow Gold to Odelay (taking only Beck's major label output into account) or Licensed to Ill to Paul's Boutique. In both of these cases, Beck and the Beastie Boys brought in the Dust Brothers for the second album. Much like these '90s icons, Perth, Australia's Tame Impala brought in a producer with a signature sound for their second album Lonerism.
Since 1990, Dave Friedmann has produced albums by The Flaming Lips, Mercury Rev (he was a founding member), MGMT, Mogwai, Neon Indian, Thursday, and many others. Mojo magazine once described Friedmann as "the Phil Spector of the Alt-Rock era" – granted, this was before Spector's arrest but is still a compliment. Friedmann's sound tends to be open, atmospheric, expansive, and a bit psychedelic, which made him a perfect producer for Tama Impala.
On Lonerism, Friedmann takes many of the sonic ideas of lead Impala Kevin Parker introduced on 2010's Innerspeaker and gives them a more expansive rendering. The band and Friedmann create deeply layered music that calls to mind post-touring Beatles, post-_Soft Bulletin_ Flaming Lips, and pre-insanity, Pet Sounds Beach Boys. Fundamentally, Tame Impala is a headphone band – a headphone band in the vinyl, late '60s and '70s sense, not in the ear bud, hyper-compressed mp3 sense of today.
All of this positive praise is not to suggest that Lonerism is a perfect album; the nearly six-minute "Keep On Lying" feels a bit indulgent given its in medias res beginning, which seems like the ending of the song, that drops off into a four-minute jam. Small indulgences aside, tracks like "Apocalypse Dreams," "Why Won't They Talk to Me?," "Feels Like We Only Go Backwards," and "Elephant" are some examples of the album's perfect psychedelic pop. So grab some headphones and enjoy the experience.
Tame Impala: http://tameimpala.com
---