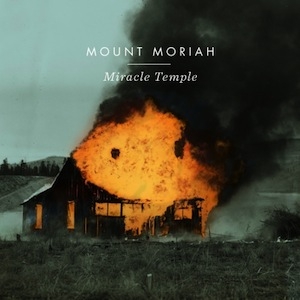 Mount Moriah
Miracle Temple
Merge
One of the most powerful cinematic experiences I've ever had was watching 1999's true story tragedy Boys Don't Cry. It's not a movie I often revisit because of its tendency to make me bawl like a broken-hearted teenager. However the images of it are burned in my soul and the song that plays over it is one from the soundtrack: "The Bluest Eyes in Texas," performed by The Cardigans' Nina Persson. Lying on a field beneath a Nebraska summer sky, stealing kisses and smoking cigarettes, hopeful and haunted – such is the place this song drops me into… and I've never even BEEN to Nebraska.
On their sophomore effort, Miracle Temple, North Carolina's Mount Moriah wrap up that song's, and that movie's, beautiful melancholy in a quilt knitted with old country soul, and it is the most perfect record to stretch its arms around my neck in quite some time. To label it country or Americana or folk is not to do it justice. Mount Moriah have managed to stand on the shoulders of their influences and sound equally nostalgic and fresh.
"Younger Days," with its anguished chorus of August is over so when are you coming back?, melts me in the same way Cowboy Junkies do and, upon first listen, I'm almost afraid to continue past this album opener for fear that the remaining 11 songs can't possibly live up to the promise that this song makes. When I finally venture on, "Bright Light" wipes the sweat from my worried brow, and as the album plays on I sink deeper into a welcoming sadness that I haven't felt since the '90s when artists like Natalie Merchant, Sarah McLachlan, and especially Cowboy Junkies helped their listeners master the art of a good cry.
Miracle Temple allows me to enjoy the catharsis of a broken heart without experiencing the first hand devastation. You may call me a masochist, but that's a beautiful thing.
Mount Moriah: http://mountmoriahband.com
---