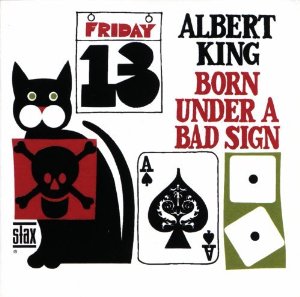 Albert King
Born Under a Bad Sign
Stax
To a blues fan, the beginning of the title cut to Albert King's 1967 masterpiece Born Under a Bad Sign, with the low-down thump of Donald "Duck" Dunn's bass anchoring the swell of the Memphis Horns (Wayne Jackson, Andrew Love, and Joe Arnold) is enough to bring a smile to the face. Steve Cropper's Telecaster begins the main riff – hanging a bit back of Al Jackson's drums, completely in the groove – and then King's vocals start (Born under a bad sign / Been down since I began to crawl), and smiles turn to grins.
Born Under a Bad Sign is one of the classic electric blues albums by anyone, anywhere, and it propelled Albert King from juke joints to the stage of the Fillmore. Recorded in Memphis with Booker T. & the MG's with Isaac Hayes playing piano, it is a textbook on blues guitar playing. Just ask Eric Clapton, who starting performing "Bad Sign" with Cream and left King's solos largely intact. The title cut and "Crosscut Saw" became standards in the genre, and every song on the album is a perfect meshing of that southern soul snap of Stax and the MG's with King's gruff vocals and stinging guitar.
The reissue adds five cuts of alternate takes and an untitled instrumental, but the original eleven cuts are so staggeringly good it almost seems a sacrilege to tinker with it. The remastered CD adds definition to the sound – "Lucy," King's upside-down Gibson sounds punchy and the MG's sound even more "in the pocket" then you recall. Listening to it on headphones allows you to more fully appreciate how the horns back up the rhythm section, or how the Cropper plays all those greasy runs backing up King (who, like B.B. King generally only played lead on his records).
The record has it all, from the grinding swagger of the title cut, the up-tempo, rumbling force of "The Hunter," to slow blues such as "As the Years Go Passing by" and "The Very Thought of You," and every cut is letter-perfect Memphis soul/blues, by one of the masters of the field. Take a spin of Born Under a Bad Sign and hear for yourself. If by album's end you aren't grinning, then brother, you ain't just got the blues-,you don't have a soul.
Concord Music: http://concordmusicgroup.com
---