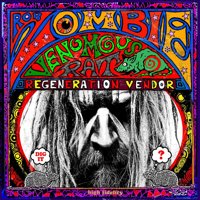 Rob Zombie
Venomous Rat Regeneration Vendor
Zodiac Swan
A LOT of the attention for the new Rob Zombie album is going to be focused on his cover of Grand Funk Railroad's "We're an American Band," and rightly so. Zombie and his cohorts (guitarist John 5, bassist Piggy D, and drummer Ginger Fish) do an incredible job on it, with hard hitting rhythms backing up a scorching lead, while still keeping the song recognizable. But as good as the cover is, it's not the best the album has to offer. Zombie promised in the lead-up to the release that this "merges the old days of White Zombie with the future of what I am doing now," and I can see where he gets that. Several of the tracks have that classic White Zombie throb to them, while others have the more electronic feel of his recent work, and in still others you can feel an emergent middle-eastern vibe.
It's no secret that some longtime Zombie fans have been disappointed with his last few albums. I voiced my concerns about Educated Horses on this very site. And while some remnants of those forays into pop-electronica populate (see "Ging Gang Gong De Do Gong De Laga Raga"), they definitely pale in comparison to more hard hitting tracks like "Lucifer Rising" which could have easily had a spot on Astro-Creep: 2000. Now that's not to say Zombie is just doing a retread of his past. Instead, at times he's reaching back beyond himself. Not only with the aforementioned cover, but also with "Dead City Radio and the New Gods of Supertown," we see a respect for classic rock that has rarely been evident in his own work. Don't worry, we still get plenty of samples to go along with our funky grooves. Samples start off "Teenage Nosferatu Pussy" before the grooves kick in, and the sampled screaming peppered throughout "The Girl Who Loved the Monsters" makes it quite creepy.
There's a lot to love with Venomous Rat Regeneration Vendor, besides the always-catchy song titles. If you, like me, felt that Rob Zombie had lost a step musically while he had been focusing on his movies, you might want to give the new album a chance. It's great background for a party and I imagine the live performances of some of these songs will be legendary.
Rob Zombie: http://robzombie.com
---