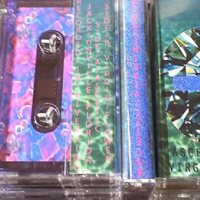 Ascetic/Virgin Flowers
Split Cassette
Rainbow Pyramid
A few years ago, Jacksonville brothers Josh and John Touchton led an unfeasibly heavy and weird duo project called National Dairy (later Dairy), known for sweaty physicality and dizzying dynamic shifts. Though their bond remained strong (I remember catching an Ascetic show once and Josh was the first to bound up to his brother as soon as he walked offstage to enthuse about the performance), each became involved in solo endeavors.
This split cassette on Rainbow Pyramid collects a clutch of songs by the main project from each Touchton brother while also whimsically bringing about a National Dairy reunion on tape; though, y'know, never the twain loops of tape shall meet. Exhibit A is Joshua Touchton's Virgin Flowers, a solo lo-fi affair built on broken electronics, tape loops, and Touchton's own blurred, heavily phased vocal murmurs. Virgin Flowers occasionally wanders into territory shared with Gucci Mane's most unhinged moments, but Virgin Flowers is stripped of beats and forward motion. It moves erratically and messily according to its own internal illogic, and it's more often than not a thrilling listen. Virgin Flowers is the sound of a mind overwhelmed by the sheer beauty of it all, trying to communicate in overawed and ecstatic fits and spurts.
Exhibit B is Ascetic, a duo project between John Touchton and Alyssa Silva. You'd be hard pressed to find music more stylistically apposite to National Dairy than Ascetic, but GODDAMN is it beautiful. Ascetic is a band in gorgeous hock to classic gothgaze like Lycia, with hints and nods to the Creatures and Dead Can Dance's more sedate moments. Ascetic's sound is built on solemn, hushed waves of synth and electronic percussion, awash in bejeweled echo. Silva's voice carries it through, strong and pure like Lisa Gerrard. This is so outside the lines of what you would expect from a local act, it fucking blew my mind. Live, I just stood there, mouth agape, in front of the stage. The only drawback to this is that it's not a full-length, or hell, a 5-tape boxset, by each. Evolve.
Rainbow Pyramid: http://rainbowpyramid.blogspot.com/
---