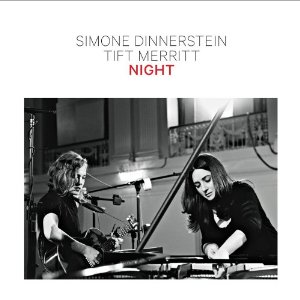 Simone Dinnerstein Tift Merritt
Night
Sony Classical
At first glance, this collaboration between alt-country favorite Tift Merritt and classical pianist Simone Dinnerstein seems an odd mix – until you play the result. The 14 cuts here range from Merritt originals ("Only in Songs," "Still Not Home") to Brad Mehldau's "I Shall Weep At Night," a Nina Simone arrangement of Billie Holiday's "Don't Explain," and more, and each track is greater than its individual parts. Schubert's "Night and Dreams" becomes a Springsteen ballad, with Merritt's haunting vocals hovering over her guitar and understated harmonica, with the gloriously recorded piano of Dinnerstein filling in the gaps. The record at times reminds of some undiscovered Nico solo work, at once both classical in nature but filled with popular flourishes.
Simone Dinnerstein, best known for her Goldberg Variations, performs two numbers solo, a Bach Prelude, and Daniel Felsenfeld's "The Cohen Variations," as in Leonard. But it's the sharing of the two talents pushed far beyond their comfort zones that holds the most charm of the record. Merritt doesn't read music, so she would record everything and go back to the hotel and learn it, whereas Dinnerstein had never played "by ear" and was forced to improvise a melody. The result, such as on the traditional "I Will Give My Love an Apple" or the winsome cover of Johnny Nash's "I Can See Clearly Now" is sublime.
Night is the result of two talents coming together to create and explore a new musical world for each, and in doing so Merritt and Dinnerstein have crafted an altogether masterful experience of sound and subtlety. One can hope this is the first step in a long collaboration.
Tift Merritt: http://tiftmerritt.com
---