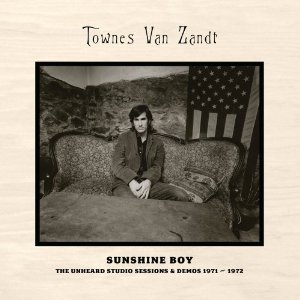 Townes Van Zandt
Sunshine Boy: The Unheard Studio Sessions & Demos 1971-1972
Omnivore Recordings
He died 44 years to the day after his idol, Hank Williams. A decade before these recordings, he went through insulin shock therapy, which obliterated his long-term memory. Prone to depression, alcoholism, and drug addiction, he was a relative unknown during his life. More people have heard his songs covered by others such as Willie Nelson and Merle Haggard on "Pancho and Lefty" or Steve Earle's Townes album. Heck, more people know him as the singer of "Dead Flowers" on the closing credits for The Big Lebowski than probably ever heard his voice otherwise.
And that's the shame. Van Zandt is unrivaled among singer/songwriters – hell, he practically invented the concept. His blend of folk, blues, and country was cerebral, funky, and slick, all at once. You only need to hear "To Live Is To Fly" to realize the brilliance, the genius behind the poetry: Days up and down they come / Like rain on conga drum / Forgot most, remember some / But don't turn none away. His music is natural, expertly played, and deep. Once you are confronted by it, something inside you changes, and you look at life in a different way. It's a rare gift to be able to bring this about, and few have ever done it. Hank Williams, for one, or Dylan.
This two-CD set features a disc of unreleased studio sessions produced by "Cowboy" Jack Clements in Nashville, and contains the songs that Townes would play and re-record for the rest of his life. "Mr. Mudd & Mr. Gold," "Lungs," and "White Freight Liner Blues" have become standards. These early recordings are country-funky. Townes' easy delivery sounds at home among the fiddle and acoustic guitars. The second disc contains demos of some of the same songs, and even when stripped down, the magnificence of the material shines. Colin Escott did the compelling liner notes and provides a good overview of the man that Steve Earle claimed was "the best songwriter in the whole world, and I'll stand on Bob Dylan's coffee table in my cowboy boots and say that." (To which Van Zandt supposedly replied, "I've met Bob Dylan and his bodyguards, and I don't think Steve could get anywhere near his coffee table.")
If Sunshine Boy: The Unheard Studio Sessions & Demos 1971-1972 lures more to the majesty that is Townes Van Zandt, that's great and welcome. But if not, those of us who know, know. And nothing can ever take that experience away, or really ever diminish it.
So close and yet so far away / And all the things I'd hoped to say / Will have to go unsaid today / Perhaps until tomorrow "Tower Song"- Townes Van Zandt
Omnivore Recordings: http://omnivorerecordings.com
---