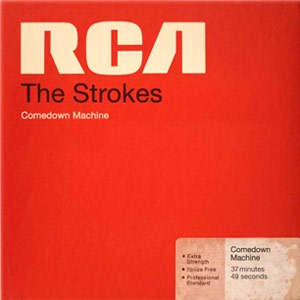 The Strokes
Comedown Machine
RCA
A part of me LOVES that The Strokes are still making albums and still trying to figure out who they are as a band. It's the same part of me that can't bare to throw away the first pair of Doc Martens I ever owned ( that are now 17 years old, full of holes, and without any tread left). So long as The Strokes keep stumbling through life looking for the album that can live up to the brilliance of their debut, I can put on hold the process of growing up. Like The Strokes, I, too, can try to hang onto a perfect space in time – for me, it's that post college feeling of "anything is possible, because we have all the time in the world;" for the band it's that devil-may-care attitude of the turn of the century garage rock revival that they helped spawn.
Unlike a lot of Strokes fans, I also dug their pair of few follow-up albums (the wildly underrated Room on Fire and First Impressions of Earth). I even bought all of the solo efforts by each band member – and not just singer Julian Casablancas, or I even own drummer Fabrizio Moretti's Little Joy record! I mean it – I LOVE this band, always have.
2011's Angles was a schizophrenic exploration of 80's new wave and, with the exception of a few decent songs, seemed more like a contractual obligation that an album these five guys actually felt like making together. They didn't really tour behind that record, and they quietly crawled back into their holes – I, honestly, thought that might be the end of my beloved Strokes.
And then, two years later, Comedown Machine dropped out of the sky. The kickoff single, "One Way Trigger" was so bizaare – with Casablancas straining for an ill advised falsetto – that I could hardly listen to it without feeling depressed. What happened to these guys?!, I lamented. If it weren't for the next release, and the nostalgia-laden video that accompanied it, "All The Time," I may have written these album off completely. As it were, that song's return to form reeled me in enough to give the uneven, head shaker Comedown Machine a fair chance.
There are sooo many things wrong with this album that casual listeners may not even be able to make it all the way through the first listen, but the reward is in the repetition. There ARE some gems tucked into the otherwise falsetto-sprinkled, new wave-ripping muck. "Welcome to Japan," with it's David Bowie meets The Clash groove is a keeper, as is the irrestible hip shaking fuzzed out "80's Comedown Machine." Even as they try on different styles they sometimes strike gold, as on the R.E.M. via The Beach Boys ""50/50," or on "Partners in Crime" which to me recalls The Cars.
They close things up with a dreamy lullaby, "Call It Fate Call It Karma," which is unlike ANYTHING they've done before. If this ends up being their final record, it's a charming "goodbye." Though, like my Doc Martens, I'm betting they've got more life in them then people give them credit for. And I,for one, will not be tossing them to the curb anytime soon.
---