Nataly Dawn
with Lauren O'Connell
The Slipper Room, New York, NY • 3/28/2013
May Terry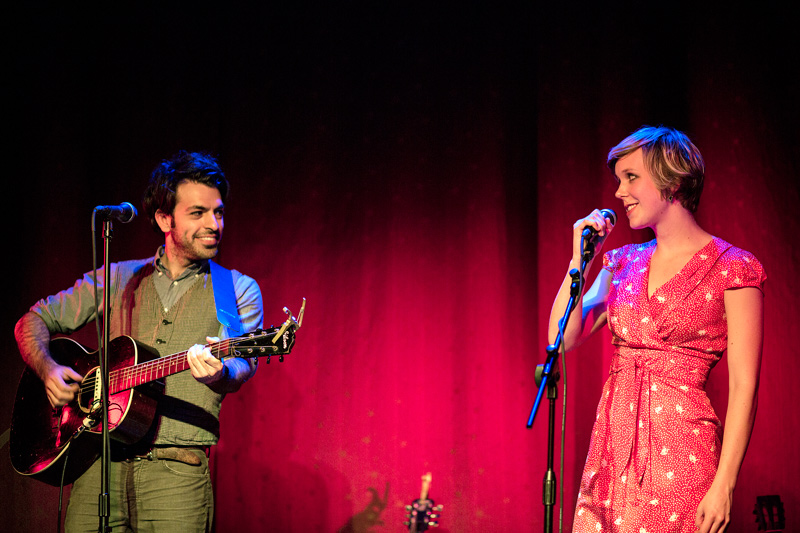 After a couple of years as half of the indie-pop duo Pomplamoose, Nataly Dawn has gone solo and, fresh from a record deal from Nonesuch Records, is now touring to promote her debut solo album, How I Knew Her. Now, if you are a fan of the Pomplamoose "videosongs," then you know that the duo shines in delivering a spritely and lighthearted silliness to its originals and cover songs. With that, it would seem a perfect fit for a live performance at The Slipper Room, a Neo-Burlesque club in the trendy Lower East Side. Instead, Ms. Dawn brings an introspective and intimate set of songs on the small stage with guitarist/banjoist Ryan Lerman and fellow singer/songwriter Lauren O'Connell.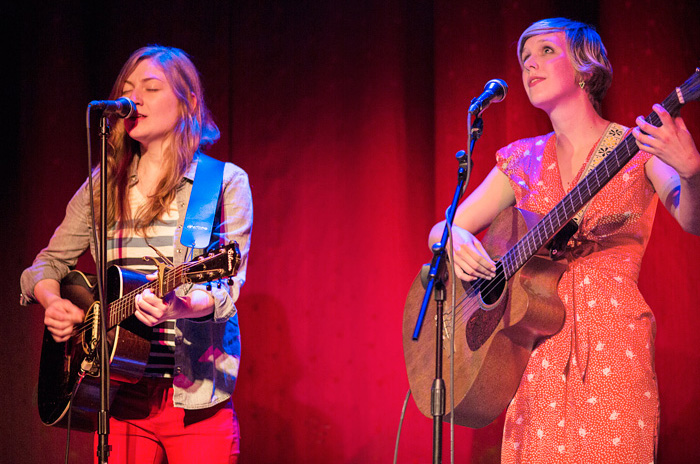 Ms. Dawn, who has the uncanny looks that could let her pass for Beck's younger sister, had a homey country appearance with a short shag cut, a red polka dot dress, and bare feet – a way of bringing to the stage some of the down-home feel of her online videosongs. In the small seated tables of the Slipper Room, the vibe was of an intimate gathering of friends enjoying good music. There's a clear chemistry between Dawn and Lerman, most sensed in their duet, "Baby It'll Be Alright." Ms. Dawn and Ms. O'Connell also showed great rapport and sang wonderful harmonies in the clever and funny femme-fatale-inspired bluegrass/country song, "When I Decide," from their joint collaboration/band, My Terrible Friend. Actually, Ms. Dawn and Ms. O'Connell sound so good together onstage that I personally would like to see a headlined My Terrible Friend show.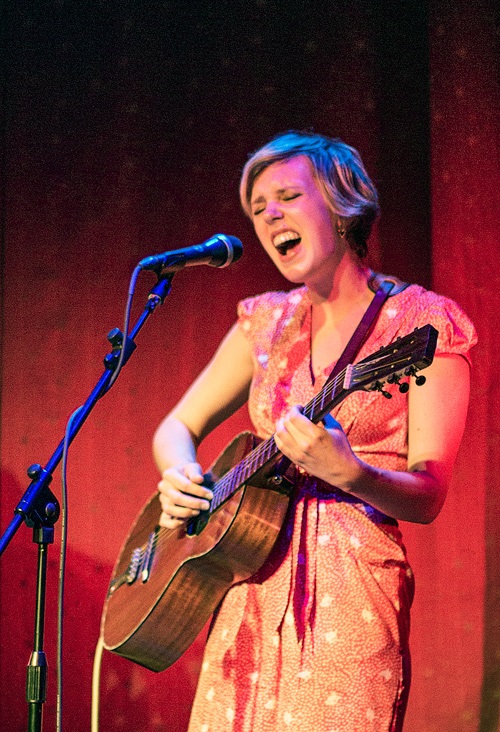 Still, there's something missing in Ms. Dawn's solo performance, especially if you've been part of the internet music hipster crowd following her music since she first published her cover songs on YouTube several years ago. The great split-panel videosongs and humorously quirky web blogs that follow are a staple of the Nataly Dawn/Pomplamoose YouTube experience. It's what created a social media buzz and online music sales which helped Pomplamoose land lucrative Hyundai and Toyota car commercial promotions in the first place. It doesn't necessarily take away from her musical talent and onstage presence; someone listening to her for the first time will enjoy her indie folk-pop music, but the online experience is what separates her from the deluge of mainstream folk-pop singer/songwriters flooding the industry today.
So I would say this: check out the live show for an enjoyable evening of indie-pop music from a good singer/songwriter and her talented musical accompanists, but definitely tune in to the Nataly Dawn/Pomplamoose/My Terrible Friend videosongs online to experience the works of a very gifted and highly entertaining musical artist.
Nataly Dawn: http://natalydawn.tumblr.com • My Terrible Friend: http://youtube.com/user/myterriblefriend • Pomplamoose: http://youtube.com/user/pomplamoosemusic ◼
---