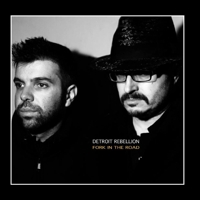 Detroit Rebellion
Fork in the Road EP
For a short little EP, there's some confusion around this group – they aren't from Detroit, for starters. To guarantee purity, you should only listen to the disc with a black-and-white picture of two hipsters, one with glasses and a hat.
Once we are all on the same page, I give three thumbs up to the murky, late night sound of these guys. It's simple blues-based rock with the sort of echo you get in a drippy warehouse basement. "Fork in the Road" is the hot cut here; it's fuzzy and full of feedback and shows what you can do with just a guitar and drum kit. Sure, White Stripes pulled that off a few years ago, but that doesn't reduce the power of simplicity. They've got a sort of backhand grunge cred – apparently the fuzz pedal Jeff Toste uses was given to him by Kurt Cobain. I guess I'm supposed to be in awe, but we need a bit more back story. Was it busted, or did they have some previous personal debt and Kurt was short of cash? Do we really care? It's not like Cobain was known for customizing his own electronics. There are three more cuts here, all pretty decent but just not quite up to "Fork."
Gritty, dark and ominous, this is the sort of blues that will drag you down the road to some sort of addiction.
Detroit Rebellion: http://detroitrebellion.bandcamp.com
---