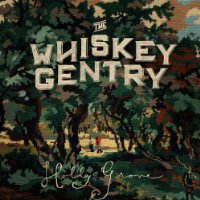 The Whiskey Gentry
Holly Grove
Mark my words, this Atlanta-based band is gonna be HUGE!
The second album from The Whiskey Gentry, Holly Grove, self-released after a more than successful Kickstarter campaign, is a boisterous good time. Led by the golden throat of Lauren Staley and aided by Jason Morrow (guitar), Chesley Lowe on banjo, Sammy Griffin (bass), Price Cannon (drums), mandolin picker Michael Smith, and Rurik Nunan on fiddle, the band brings a rocked-up edge to country like some other natives such as the Zac Brown Band or Sugarland. The record starts with "I Ain't Nothing," with Staley sounding like the perfect honky tonk angel missing her man – "I ain't nothing unless I'm lovin' on you." She sounds a bit like Kacey Musgrove, both in tenor and attitude – a smart, independent woman in love. "Colley Davis" follows, and it's an Old 97s/Jason and the Scorchers sorta feel, with the fiddle playing tag with Morrow's guitar to great effect. The pace slows down for the title cut about a winter's hidden memory, with a sort of rockin' Celtic feel with the fiddle atop blaring guitars, a la Richard Thompson, perhaps.
The record was produced by John Keane (R.E.M., Uncle Tupelo), and it sounds incredible. It's not easy finding a balance between acoustic instruments and electric guitars, but Keane manages it well, without it turning to mush.
Staley got her start winning a contest to sing with Butch Walker and the Marvelous 3 at Atlanta's Music Midtown festival, and he returns the favor here, joining Staley on a duet on "One Night in New York," which sounds like an outtake from Whiskeytown's Stranger's Almanac – and that's saying something. In fact, Ryan Adams and Whiskeytown is a good comparison to The Whiskey Gentry, but the band has a more bluegrass feel, particularly on "Oh Me," which wouldn't sound out of place on a Hazel Dickens record.
In an age when 99% of popular country artists are more Miley Cyrus than Loretta Lynn, Lauren Staley and The Whiskey Gentry stand astride both rock and country, never shortchanging either. Hell, you gotta love a band that got its name from a Hunter S. Thompson quote, and includes a hidden track of "A Whiter Shade of Pale" (featuring a fiddle in place of the organ part on the original – chillingly good), I mean, what's not to love? Huge, I tell you. HUGE!
---