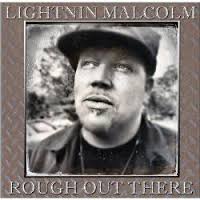 Lightnin Malcolm
Rough Out There
Shakedown Records
Lightnin Malcolm got his start playing drums for the late, great T Model Ford, and the blues he learned in the dive bars of the South stuck with him. He now plays guitar with North Mississippi Allstars, and recently released Rough Out There, his debut solo record. The hill country of Mississippi is never far away from his sound, heard on the opening cut "Workin'." A simple, insistent guitar part frames Malcolm's voice and brings to mind R.L. Burnside and Mississippi Fred McDowell. Fellow Allstar Luther Dickinson adds slide to the track, and I tell ya, it's tough listening without a shot of whiskey in hand. This is the real blues, Friday night juke joint stuff, and it's great to see a younger performer so adept at it.
When he sticks to the blues Malcolm is unstoppable, such as on "My Life's a Wreck" or "So Much Trouble." When he ventures a bit farther afield, such as the poppy "Dellareesa" or the country-infused "Givin You Away" he stumbles, but those missteps are minor. All is forgotten when he breaks into "Young Woman, Old Fashioned Ways," whose sputtering slide work brings to mind an early Muddy Waters, or the mighty swagger of "Stomp Yo Feet, Clap Yo Hands," which compels you to do the same – just don't spill that whiskey!
Yes indeed, Lightnin Malcolm gives you hope for the next generation of bluesmen. It might be Rough Out There, but nobody said you couldn't boogie through it all. Lightnin… strike!
---