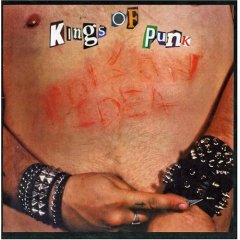 Poison Idea
Kings of Punk
Southern Lord
Poison Idea never became the household names they should have been, especially considering their string of classic hardcore albums and EPs the band released displayed a furious, tightly played mixture of Discharge, Motorhead, Black Flag, and the Germs. Their location in Portland, Oregon might have had something to do with their lower-tier status, or their bleak, nihilistic outlook, or the fact that two of the members weighed in at over 300 pounds.
Kings of Punk, Poison Idea's second 12", dropped in 1986. At the time, many of the scene's founding bands had either dropped out, gone rock (which Poison Idea would do in a few more years, and pull off better than just about anyone else), or was singing about unity.
Barking out blazing fast hardcore in album opener "Lifestyles" or the about-to-fall-apart speed of "God not God," Vocalist Jerry A. had a commanding voice, one that perfectly matched his tales of alienation and hatred. When the songs had more room to breathe, like in "Made to be Broken," Jerry's voice could reveal a howling anguish and need, like a more-lived in John Brannon from Negative Approach.
And for a band known more for power than finesse, Tom "Pig Champion" Roberts displays surprising versatility in his guitar work, from the Naked Raygun-ish lead in "Short Fuse," to the rock breaks in "Death Wish Kids," to the poppy riff in "Made to be Broken," Roberts' guitar work was a major factor in the success of Poison Idea's later more rock-influenced work, something that few (actually hardly any) of their contemporaries were able to pull off as well.
But you don't buy an album titled Kings of Punk for subtlety, especially with the cover of Jerry A's self-mutilated torso displaying the title, and the overall effect of the short album is one of overwhelming despair, rage, self-loathing, and frustration, set to some of the tightest, heaviest musicianship the hardcore era had to offer.
So how do you turn an album that clocked in at under thirty minutes into a double CD? By adding three sets of prime live Poison Idea, from 1984, '85, and '86. The set lists don't vary much – most of the material is from Kings of Punk, and Record Collectors are Pretentious Assholes with a few well-chosen covers ("Motorhead," "Jailhouse Rock") but when you've got two steamrollers like that, you don't really need to vary your set too much over the years. The live recordings are much better than expected, and would be worth it just to hear the band heckling the audience (personal favorite: "This is the '80s, dude. Get a Mohawk and listen to something recorded in 1976.").
A brutal, punishing blast of hatred, directed both inward and outward, Kings of Punk still stands as one of the hardcore era's most punishing albums. Hopefully Southern Lord's reissue will get this essential album in the hands of those who haven't heard it previously.
---