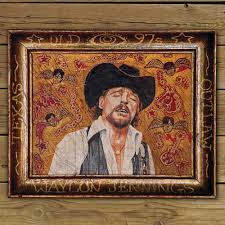 Old 97's
Old 97's & Waylon Jennings
Omnivore Recordings
A teasing taste of what might have been…
When Waylon Jennings heard the Old '97s at a radio convention in Atlanta, he went back to Texas and talked them up in the Austin Chronicle. For a young band that would be heady enough, but Rhett Miller and the rest of the Old '97s took it a step further and sent Hoss a letter, thanking him for his words and asking if he wanted to work together. He accepted, and the band rode to Nashville to cut a few tracks with Jennings singing.
What resulted sounds like a match made in honky-tonk heaven. "Iron Road", an ambling hobo tale propelled by Phillip People's sharp snare drumming, is Waylon in all his rough and rowdy glory, and the 97s back him up all the way down the line with their signature sound. "The Other Shoe" is more of the same, with Waylon's voice giving the words of dread and regret a poignancy that only a well-traveled man of the world such as Jennings could give.
As far as we know these songs were the only outputs of the pairing of the two. Although brief, they hint at what might have been if they had continued on, with the youthful fire of the Rhett Miller and crew backing up the great Waylon Jennings. This EP is rounded out with a group of Old '97s demos from 1996- "Visiting Hours", "Fireflies", "London I Know" and "Born on a Train", the Stephen Merritt tune. Great stuff all, but they pale when compared to the tunes with Jennings. Oh, what magic they made.
---