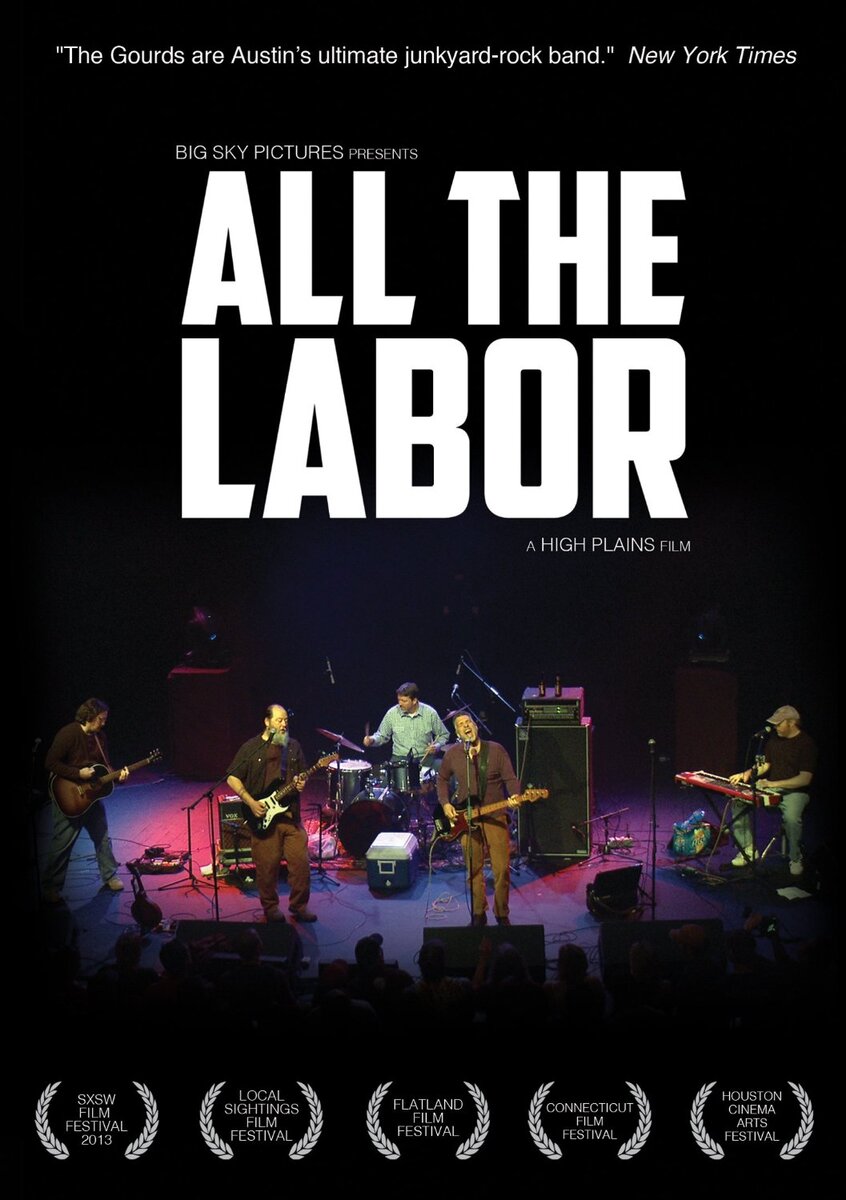 All the Labor
Directed by Doug Hawes-Davis
Starring The Gourds
High Plains Films
Since their beginnings in 1999, Austin's The Gourds have never gotten their due. Too weird for country, too funky for the rock crowd, and too ugly for MTV, they have been crafting their rootsy brand of Americana over 11 albums, each one better than the one before, and now the bearded ones are the subject of a new documentary All the Labor. If you are a long-time fan then this movie is manna from heaven. Full of performances (where the band truly shines), revealing interviews and a fair amount of Gourds strangeness, the film gives you a sense of the bands dynamic. The two main songwriters, bassist Jimmy Smith and guitarist/mandolin player Kevin Russell create an eclectic mix of styles, from Smith's "lead bass"-driven country funk to Russell's more delicate ballads, all with their celebrated Jack Kerouac meets Harry Crews lyrics.
Be it "Pickles" from Smith or "Gangster Lean" from Russell, a Gourds song never quite ends up where you would expect, as evidenced by their first "hit", a countrified version of Snoop Dog's "Gin and Juice" that, in true Gourds luck, was tagged on Napster as being by Phish (like Phish ever had a sense of humor). They never matched that level of notoriety again but watching All the Labor one gets the feeling that for the band, that's quite alright. Perhaps the world will never be ready for The Gourds, although to a fan this remains somewhat hard to understand- you would think that their unique mixture of country/folk earnestness propelled by near jam-band grooves could find welcome ears in many corners, but perhaps they are just too good–and too weird–for the mainstream.
Currently the band is on hiatus, with Kevin Russell leading a new group "Shinyribs" and Jimmy Smith's "Hard Pans" making the rounds, but one hopes that All the Labor isn't the bands swan song, more an end to the first chapter of The Gourds. Because it's been quite a while–perhaps since the mid-60s and the birth of The Band–that a group has been so packed with talent, songwriting and fluency on whatever instrument that's lying around as The Gourds. Long-time fans will put All the Labor on endless repeat, (at least until the band plays their town), and those who haven't been introduced to the world of the Gourds, well… I envy you. A new world awaits you. It's a mighty freaky and weird world, no doubt, but there ain't anything like The Gourds!
---