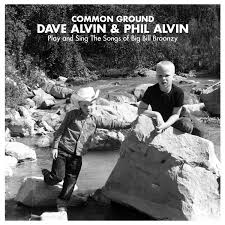 Dave Alvin & Phil Alvin
Common Ground
Yep Roc Records
This release has been long awaited for two reasons. First off, it is a celebration of one of the greatest blues songwriters and performers ever, Big Bill Broonzy, whose classic tunes have been some of the most oft-performed standards of the genre. But even more special than that is the the fact that this album marks the first time Dave and Phil Alvin have recorded an entire album together since the mid-'80s.
The Alvin's were the co-founders of The Blasters, one of the most beloved of all roots bands since their debut American Music in 1980. Dave's guitar and songwriting skills gave us such moments as "Marie Marie", "Border Radio", and "Dark Night" from their swan song, Hard Line from 1985, and Phil's bluesy vocals were the perfect foil for Dave's tunes. But as with so many rock and roll siblings- such as the Kinks or Oasis, the two parted ways, with Phil continuing The Blasters while Dave embarked on a solo career, becoming one of the most reliable and emotive artists to ever strap on a guitar.
Common Ground is a tour-de-force for the brothers, beginning with "All By Myself", with the National guitar of Dave driving the song, and only gets better from there. They swap vocal duties on the 13 tunes, from the stomping "How Do You Want It Done" to the swagger of "Stuff They Call Money". Broonzy's most well-known song, "Key To The Highway", a blues standard performed by everyone from Little Walter to Clapton and hundreds more, sounds as if it was written solely for the Alvin's to sing. This was the stuff Dave and Phil Alvin grew up on, and a lifetime of listening and playing these classic songs ingrained in the two a remarkable ease with the material. While longtime fans might pine for a Blasters reunion (ain't gonna happen, says Dave), Common Ground is the next best thing. Highly recommended.
---