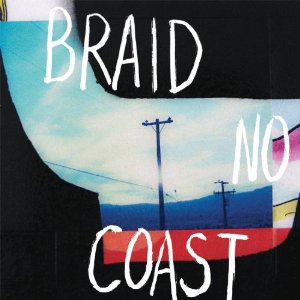 Braid
No Coast
Top Shelf Records
Every time a band from my youth reunites and puts out new material, I can't help but get giddy with anticipation. If you're in your mid-30's or older, you likely remember listening to Frame and Canvas for the first time, mouth agape, thinking, "Holy cow! this is some incredibly unique melodic post-punk!" It was a dark winter's night in a van somewhere when my friend Rob (a guy "in the know" at the time) happened to get an advance copy of Frame and Canvas. We listened to it for three days straight as we drove to our own shows, each time, loving it more than the previous time. We rarely agreed on anything, but it was unanimous (and still is): Frame and Canvas is a seminal album, a portrait of excellence from a time long gone.
Braid's reunion record, No Coast, being so highly anticipated by many of my age, deserves a song by song write up, so here goes.
The first song, "Bang," opens with unmistakably Braid-esque guitars similar to the opening of "Forever Got Shorter." As the song kicks in, seasoned fans will note that, while things are still rocking well, the speed & urgency is pretty much gone. Also, the vocals are really high in the mix, and it sounds like they spent a fortune recording the album. What is familiar in this opening track are Braid's trademark discordant guitars which sound as awesome as ever.
"East End Hollows" is the second track. It's a bit peppier than the first track and has the shuffled drum bits common in their early work. The guitars are exceptional, quintessential stuff from these guys with one guitar laying down discordant sounds while the other noodles a lovely melody atop as the drummer pummels away. Interestingly, Chris Broach sings the first two songs on the album, and on this second track, he sounds strangely like Tom Delong of Blink 182. Regardless, this song is a keeper.
The album's title track, is a slower, lazy track with Bob Nanna singing. It sounds like "Divers" from Frame and Canvas, but it lacks the fever & urgency of that song. The chorus is kind of cool, but sounds kind of like watered down Superchunk.
"Damages" opens with a rolling, thick, and chunky bassline and a propulsive drumbeat; this song sounds unique to Braid's catalogue, with female backing vocals in a few spots (it sounds good). This song is the first on the album to stand out as a "new-direction" sounding Braid song, as the first three were quite reminiscent of old songs they've already done.
"Many Enemies" is a classic tune that will please long-time fans. It sounds as if it could have been recorded during "Please Drive Faster" sessions; again, Broach sounds to be mimicking Blink 182's vocalist, but it works. The guitars are especially strong on this song, opting instead of discordance for a driving wave of chords that flow throughout the track.
"Pre-Evergreen" showcases Bob Nanna at his very best. His voice is fluid and clear, warm and inviting, and dances above a steady muted verse with an off-kilter drum beat. This song sounds al lot like early "Age of Octeen" Braid, in that the fancy guitar work is set aside for a more simplistic, power chord assault. Ironically, there's a mid-1980's rock hits-vibe, a la Damned Yankees, Survivor, and that ilk (no joking).
"Put Some Wings on that Kid" is a return to form for angular Braid fans, with a jagged guitar cadence that matches a starty-stoppy drum progression. It's somewhat reminiscent of a less complicated "Ariel," and again features a Bob Nanna at the top of his game. This song will please fans of the band's more mathematical side.
"Lux" sounds like a rehash of "Please Drive Faster." It's a nice little tune, but it's identical to the aforementioned song and is instantly forgettable.
"Doing Yourself In" is another mid-tempo piece of classic Braid fare. It hits hard with galloping basslines, sparse guitars that clang erratically against the drums. Again, Nanna's voice is like butter here; the best part of the song is the guitar melody that plays during the chorus – it's triumphant and declarative. Broach offers his classic screams in the background of the latter sections of the tune, sending the listener dreamily back to the late 90's. With this song, this far in, the album has established itself as something that will make longtime Braid fans happy.
"Light Crisis" is "A Dozen Roses"-esque Braid, i.e. laid back, melodic, and aurally pleasing. It's pleasant, but not mind-blowing.
The closing song, "This is Not a Revolution," is a slow, plodding anthem of a song that sounds a lot like Braid mixed with mid-1990's Flaming Lips. It's definitely a unique sound for the band, but Broach's vocals are exceptionally strong and prophetic here. It's a long song, in relation to the others, but will make for a really nice middle of the set song for their upcoming tour.
All in all, No Coast is rock solid; I enjoyed it immensely (it also gets better with each listen). The songwriting is strong, although a lot of them sound like rehashed or reworked arrangement from their past albums; however, I'm totally fine with this. It's their first release in 16 years, so they're no doubt relearning how to write songs as Braid again. As far as new releases from long broken apart bands go, "No Coast" is stellar. For Braid fans, this one is definitely worth the investment.
---