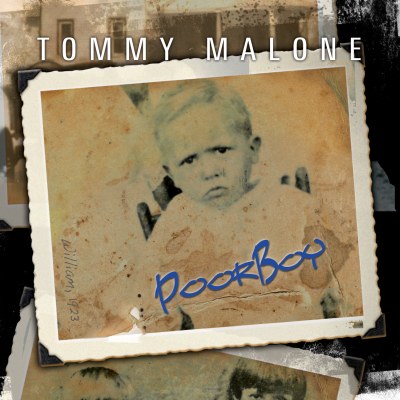 Tommy Malone
Poor Boy
M.C. Records
Long-time front man of New Orleans-based roots rock band The Subdudes, Tommy Malone has quietly and unassumingly released his third solo record, Poor Boy. Combining different elements of blues, rock, country, folk and New Orleans rhythm and blues, Malone has put forth an 11-song slice-of-life collective chock full of poignantly written, impeccably produced material with seasoned musicians who he has worked with extensively. As writer or co-writer of all tracks but one, a Stevie Wonder cover, Malone plays a myriad of instruments including acoustic, electric and formidable slide guitar. Joining him as co-producer and engineer as well as backing vocalist and multi-instrumentalist is long-time friend and musical collaborator, Ray Ganucheau. Rounding out the studio band are drummer Russ Broussard and keyboard player Sam Brady, both of whom have played with Malone in various capacities.
A self-proclaimed Beatles fan, Malone's opening song, "You May Laugh," smacks strongly of The Fab Four's influence, right down to the intentional lyric "we can work it out" in the bridge.
Don't let the soothing harmonies of "Pretty Pearls" fool you. While you may envision yourself lying in a hammock on the back porch sipping something cool as Malone deftly executes wicked harmonica and slide guitar, this song about a southern debutante is loaded with heartbreak, regret and "pearls" of wisdom – "I hope you one day wake up knowing, they're only pretty pearls." Slam dunk, indeed.
Hearkening back to his deep New Orleans R&B roots, "Mineral Girl" is packed with all the flavors of the Big Easy style, while the upbeat, totally rockin' "All Dressed Up" once again features Malone on harmonica and slide, accompanied by funky organ sounds.
"Bumblebee" shifts between a Steely Dan-eseque groove and a flamenco-infused vibe complete with a 12-string guitar solo.
Tackling severed relationships and broken hearts, "We Both Lose" and the hauntingly beautiful, piano-based "Once in a Blue Moon" reveal the vulnerability of life and love, while the bluesy "Talk To Me" speaks straight from the soul. Continuing with the blues feel is "Time to Move On," a twangy track that could have been plucked straight off The Rolling Stones' Sticky Fingers.
As if gleaned from a William Faulkner novel, "Crazy Little Johnny" and his dysfunctional southern gothic family situation play out in Malone's soulful hands.
Wrapping up the record is the Stevie Wonder-penned "Big Brother," deftly executed in this version with guitars instead of keys and slide rather than harmonica. As politically relevant today as it was in 1972, this is an appropriate way for Malone to pay homage to Wonder, whose record Talking Book was Malone's first album purchase and a favorite still.
Offering a sampling of many musical styles, Poor Boy has a little something for everyone. Gritty, raw emotion coupled with stellar musicianship create a heartfelt collection representing Tommy Malone at the top of his game.
---