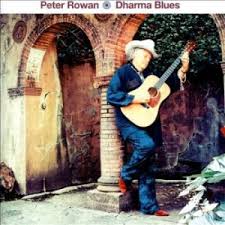 Peter Rowan
Dharma Blues
Omnivore Recordings
72 year old Buddhist Peter Rowan may well have the best resume in the business. In 1966 he auditioned for Bill Monroe, and was a "Bluegrass Boy" until 1967. From there he partnered with mandolin player David Grisman and founded Earth Opera, hitting the hippie scene opening for among others The Doors. Returning to his bluegrass roots he formed the old time super-group Muleskinner with Grisman, legendary banjo innovator Bill Keith and the king of the bluegrass and roots guitar, Clarence White. Not willing to rest, he showed up in Old and In The Way with Jerry Garcia and Vassar Clements on fiddle. Along the while he was a prodigious songwriter, penning such classics as "Panama Red," "Midnight Moonlight" and "Lonesome L.A. Cowboy" for the underrated New Riders of the Purple Sage. He still performs with a variety of groups ranging from Twang & Groove, The Free Mexican Airforce and Peter Rowan & Crucial Reggae. One must admire his work ethic.
His discography boosts over 25 releases, and his newest, Dharma Blues ranks up there among his best. Opening with Rowan in full, spirited voice on "River of Time" where he uses a Sons of the Pioneers-type harmonies on distinctly metaphysical lyrical imagery- Well it's rough and rocky and the water is wide/Sailing on the river of time/On my boat of love to the other side/Sailing on the river of time. The albums 12 cuts all follow a similar pattern, and while one might ponder what the Big Mon –Bill Monroe–might think of mixing Eastern philosophy with twang, it's Peter Rowan's claim to fame, and one that has over the years elevated him to a special place in the genre. Next up is "Raven", which finds Rowan with Hot Tuna/Jefferson Airplane bassist Jack Cassady and the sublime Gillian Welch on a bluesy ode to the creation of Poe. "Dharma Blues" highlights Rowan's guitar prowess, with a subtle fingerpicked acoustic melding with the tamboura (a Asian sitar-like instrument) of Jody Stecher and the flute of Manose Singh while Rowan explores in song what Jack Kerouac attempted with this novel The Dharma Bums in 1958. Rowan goes from Ain't no god up in heaven/Ain't no devil down below before asking for his lost soul mate, Tell her I'm doin' my time. It's just one of the truly magical moments that one has come to treasure from Rowan, a man with his head philosophically in the clouds and but his feet firmly on the path of the temporal.
It is this dichotomy between the two sides of Peter Rowan's life that brings such nuance and understated brilliance to his work, a work that has elevated what is sometimes a overtly traditional and hidebound form of music to something both elusive and yet familiar. Rowan is a rare talent that our culture is sadly lacking, a man who ponders the big questions while relating them to everyman, effortlessly. If you haven't experienced the satori that is Peter Rowan, no time like the present, or as Zen teaches, "be here now". Dharma Blues is a wondrous present from a masterful teacher.
http://www.omnivorerecordings.com, http://www.peter-rowan.com/
---