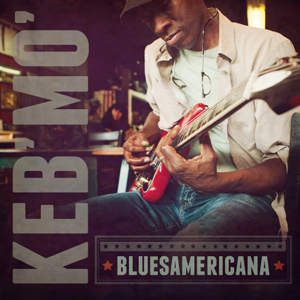 Keb' Mo'
Blues Americana
Kind of Blue Music
Blues Americana is the latest release from Grammy-winning blues crooner Keb' Mo', who celebrates an illustrious 20-year career in the music biz. Packed into this latest 10-track effort of blues-permeated, soulful sounds is a collection of tunes exhibiting a mix of personal, raw honesty blended with folksy, upbeat roots rock-type material that is distinctly Keb' Mo'. Renowned for musical storytelling, Keb' draws on his own life experiences to translate his tales through his craft. Produced by Keb' with co-producer Casey Wasner, who also plays drums on two cuts and bass on another and has been out on tour with Keb', the record focuses on letting go of the past, accepting responsibility, moving on and making changes for the better.
Nine of the ten songs were co-written by Keb' except a cover ("That's Alright") of the Jimmy Rogers-penned "That's All Right," a Chess Records hit for Rogers who had worked with the likes of Muddy Waters, Little Walter, Big Walter Horton and Howlin' Wolf. Keb' was introduced to the piece via the Sam Chatmon (Mississippi Sheiks) cover and loved it. With a colorful and sometimes disheartening history in the music industry behind him, Keb' once again has found his place among the blues raconteurs.
Kicking off with the upbeat, multi-faceted, tongue-in-cheek "The Worst is Yet to Come," Keb' is in his finest form as he recounts the story of a man down on his luck but always with the thin promise of hope. Keb' is spotlighted on guitars, banjos, harmonica and tambourine and is accompanied by several other instruments including mandolin and organ.
Rife with love themes and candid admissions, songs such as "Do It Right," "I'm Gonna Be Your Man" and "For Better or Worse" showcase Keb' on a myriad of instruments including acoustic, electric, slide and resonator guitars as well as bass. "For Better or Worse" is a melodic highlight with its enchanting vocals and piano/guitar driven sounds. With its heavier, darker theme, the bluesy organ-infused "Somebody Hurt You" finds Keb' on electric guitar, Melvin "Maestro" Lightford on horns and long-time friend and Civil Rights Movement Freedom Fighter, Rip Patton, singing backing bass vocals.
"Move," a funky ditty about initiating a change for the better, offers a bluesy, groovin' dance beat and alluring pedal steel from Paul Franklin.
With Keb' on all instruments except drums, the ultra-blues tinged "That's Alright" oozes sultry, smoky Chicago blues and holds its own with the original.
One of the real gems comes in the form of "The Old Me Better," with Keb' joined by The California Feet Warmers who utilize an array of instruments including sousaphone, plectrum banjo, washboard and parade drums. Reflecting upon the changes and sacrifices that one makes to nurture an enduring relationship, this lyrical comedy explores that tiny twinge of regret that many people feel when the responsibilities of mature life sometimes get the better of them.
The stripped-down, socio-political commentary, "More For Your Money," features Tom Shinness on cello and mandolin and Casey Wasner on drums with Keb' providing guitar and bass. Listen carefully to the line referring to Bernie Madoff – it's ingenious and vintage Keb'.
Rounding out the array of stellar offerings is a real crowning jewel – the introspective, deeply personal "So Long Goodbye," featuring Mrs. Keb' Mo', Robbie Brooks Moore, on angelic backing harmonies. The pure, bittersweet honesty and vivid emotion shine brightly and are a testament to the perseverance of this superstar music couple.
I recently enjoyed Keb' Mo' at The Plaza Live in Orlando, Florida, and the two nuggets he sang from the new album, in stark contrast to each other, were "Somebody Hurt You" and "The Old Me Better." These were exceptional choices for a live performance and were executed brilliantly.
A portion of the proceeds from sales of Blues Americana is being donated to the Playing For Change Foundation, a nonprofit organization that creates positive change through music and arts education. There is a fabulous video of Keb' performing "The Old Me Better" from Blues Americana backed by The California Feet Warmers and his son, K. Roosevelt, on drums. I can't think of a better way to support such a worthy organization or such a distinguished, philanthropic artist whose rich, stirring vocals and diverse instrumentation skills beautifully meld for a dynamic record.
www.kebmo.com playingforchange.com playingforchange.org
---