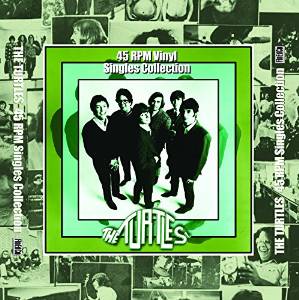 The Turtles
45 RPM Singles Collection
FloEdCo
The songs of The Turtles occupy a unique and special place in the pop culture of the '60s. They first hit the charts with a cover of Bob Dylan's "It Ain't Me Babe" in 1965, and it began a run of great singles, all of which are included here in glorious vinyl!
The Turtles were the creation of Howard Kaylan and Mark Volman (later known as "Flo & Eddie"), and until the band's breakup in 1970, they surrounded themselves with some of the better songwriters of the era, including P.F. Sloan ("Let Me Be", "You Baby", and "Can I Get To Know You Better", all included here), Warren Zevon (?!) with the catchy garage rocker "Outside Chance" and Harry Nilsson's "Story of Rock and Roll". The band's biggest smash, the classic rock radio staple "Happy Together" was penned by Gerry Bonner and Alan Gordon, and to this day it's impossible to feel blue while it spins. "Elenore", the band's final chart topper sums up their vaguely psychedelic/folk-pop sound in it's 2:31 minutes of aural bliss. Once the group broke up, Kaylan and Volman became part of Frank Zappa's Mothers of Invention, appearing on 200 Motels before becoming in-demand background singers (including T. Rex's smash "Bang a Gong" and Bruce Springsteen's "Hungry Heart").
This box set includes 8 singles, including "Love In The City", produced by the Kink's Ray Davies, and toe-tapping "Grim Reaper of Love". The 45s look like the original White Whale singles, but aren't paired together as they were when released. Still, this is a great set for filling up the jukebox, or simply enjoying some of the greatest pop songs of the '60s.
---