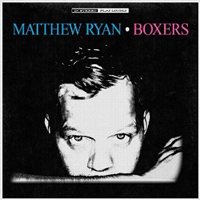 Matthew Ryan
Boxers
The artwork for Boxers, singer-songwriter Matthew Ryan's 10th solo record, instructs the listener to 'play loudly'. And with the emphasis firmly on raw, in-your-face guitars and a pitch-perfect production job by Kevin Salem, it's well-founded advice.
But due to the captivating resonance of the album's 11 songs, there should also be an equally important instruction: to 'play repeatedly'.
After a distinguished and varied career featuring quality albums such as the breakout debut May Day, the seminal Regret Over the Wires and the outstanding Matthew Ryan Vs the Silver State, right from the opening riff and gang vocals of the title track, it's clear that Boxers could well be Ryan's best album yet.
Ryan's two previous albums have been more reflective and low-key efforts, but the swaggering "This One's For You, Frankie" and the raucous "Anthem For the Broken" offer proof that turning up the amps again is an inspired decision.
"Heaven's Hill" documents the plight of a recently-redundant man amongst a soaring chorus and superb lead guitar from the Gaslight Anthem's Brian Fallon. The pop-flavoured "Suffer No More" offers a song of hope to the blue collar workforce and "God's Not Here Tonight" addresses religion head-on. By tackling such issues, it's evident Boxers is an album with a real lyrical earthiness.
Those themes continue on the delicate, yet powerful "We Are Libertines," but the defining moments of an outstanding album are the one-two combination of the startlingly good "Then She Threw Me Like a Hand Grenade" and the evocative and quite beautiful "Until Kingdom Come," featuring more stellar guitar work from Fallon.
Like a knockout blow from Muhammad Ali, Boxers will floor you with its subtle lyrical brilliance, genuine melodic force and sheer rock n'roll attitude. In a skewed musical age where celebrity often trumps talent, it's a triumphant statement of intent that the latter still matters in 2014.
Matthew Ryan: http://www.matthewryanonline.com
---