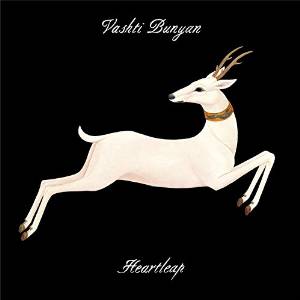 Vashti Bunyan
Heartleap
DiCristina
Known as the "godmother of Freak Folk", Vashti Bunyan has been an enigmatic figure on the world music scene since her discovery by Rolling Stones manager Andrew Loog Oldham in 1965. She released an unheard Jagger/Richards song "Some Things Just Stick in Your Mind" but it didn't catch on. However in 1968 she met producer Joe Boyd (Nick Drake, Fairport Convention, et al) and in 1969 the 19 year old released her first album, Just Another Diamond Day. It too went nowhere (at the time), and Bunyan retired from the music scene to raise her children in Scotland.
Largely unknown by her, Diamond Day found a home among folk music fans, interest increasing by the year until it became a rarity, going for big bucks on auction sites, and generating gushing praise for its complex beauty, minimal instrumentation and Bunyan's gossamer vocals. It is a timeless record, sounding at once of its era–the folk bloom from the United Kingdom in the early '70s (in some part due to Nick Drake string arranger Robert Kirby's additions)– and yet as fresh and vital as todays sound. 35 years past its release Vashti Bunyan released her second album, Lookaftering, which found the singer amid contemporary acolytes including Devendra Banhart and Joanna Newsom.
Bunyan largely ignores the music business, rarely touring, so when fans got wind of her recording in 2008, interest was peaked. And now, in 2014 she has released Heartleap, her third and final album. And it's a stunner. Opening with "Across The Water", Bunyan's delicate voice is framed by her soft guitar, entrancing and engrossing, with a subtle string arrangement in the background. This is music that requires careful listening but which rewards with each new spin, finding new detail in the lyrics or a particularly fine melody. Bunyan creates her music largely on her own in private, using modern techniques of recording to allow her to overcome not being able to read or write music, or play piano "with more than one hand". It is the music she hears in her head, writ large. The ten songs on Heartleap are ethereal and finespun, and on songs such as "Mother", devastating in emotional depth. If this is indeed her final recording, then she's given us a triumphant end to a small, but exquisitely rich body of work.
---