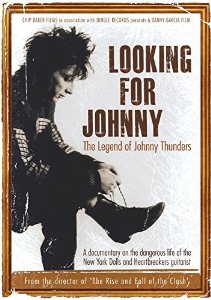 Looking For Johnny: The Legend of Johnny Thunders
Directed by Danny Garcia
MVD Visual
Johnny Thunders–born John Anthony Genzale, Jr. in Queens in 1952, died in 1991 in New Orleans– blazed through his 38 year life at top speed and high volume. A founding member of the New York Dolls and the Heartbreakers, Thunders got his name from a Kinks song and his attitude from Keith Richards, and in doing so became one of the most influential punk musicians ever. And like the Rolling Stones guitarist his stature is in some part due to his infamous drug use–is this the show where Johnny ODs–instead of his music. Which of course sells the man short- you only need one listen to his greatest song, the haunting "Can't Put Your Arms Around A Memory" from his classic So Alone album from 1978 to realize that his talent for songwriting is equaled by few in any genre.
Director Danny Garcia has crafted a compelling look at Thunders short but volatile life, starting with the creation of the New York Dolls. His interviews with Dolls guitarist Sylvain Sylvain, Walter Lure the Heartbreaker's guitarist, as well as former managers, photographers (including Bob Gruen) and other punk scene regulars combine to formulate an oral biography that shows Thunders unique gifts as well as his less than savory side story. Thunders, like so many junkies, ripped off bandmates, friends and assorted strangers to fuel his demons, which may have contributed to his demise. His body was found in a New Orleans hotel room, but the amount of drugs in his blood wasn't high enough to kill him, leading some to think that his death was the result of locals robbing him for his methadone supply. It was a tragic, but not entirely unforeseen end.
But Johnny Thunders lives on in his songs. From the two Dolls albums, to the masterpiece of L.A.M.F. from the Heartbreakers, and his solo work, Thunders left a mighty legacy. His music was Chuck Berry turned to 11, his snarling, amped-up guitar sound instantly recognizable, and his swaggering pirate looks have become a oft-repeated style. There was no one quite like him, and Looking For Johnny is a well-crafted look at a punk legend, the likes of which we'll probably never seen again. Bye bye Johnny, and turn it up.
---