Jack White
with Loretta Lynn and William Tyler
Bridgestone Arena; Nashville, TN • January 28, 2015
Jen Cray
"Fetish properties are not unlike porn," says the record store owning character Rob in the movie High Fidelity. The same thing can be said of concerts. Just like tracking down a hard to find piece of memorabilia (record, poster, what-have-you), being present at an epic performance where something out of the ordinary HAPPENS is a thrill that lasts beyond the moment and being able to say "I was THERE!" feels damn sweet, much like being able to say "I HAVE that hard to get/limited edition item that is causing bidding wars on eBay!" It feels sweeter, even, because it's not just about owning something, it's about BEING A PART of something.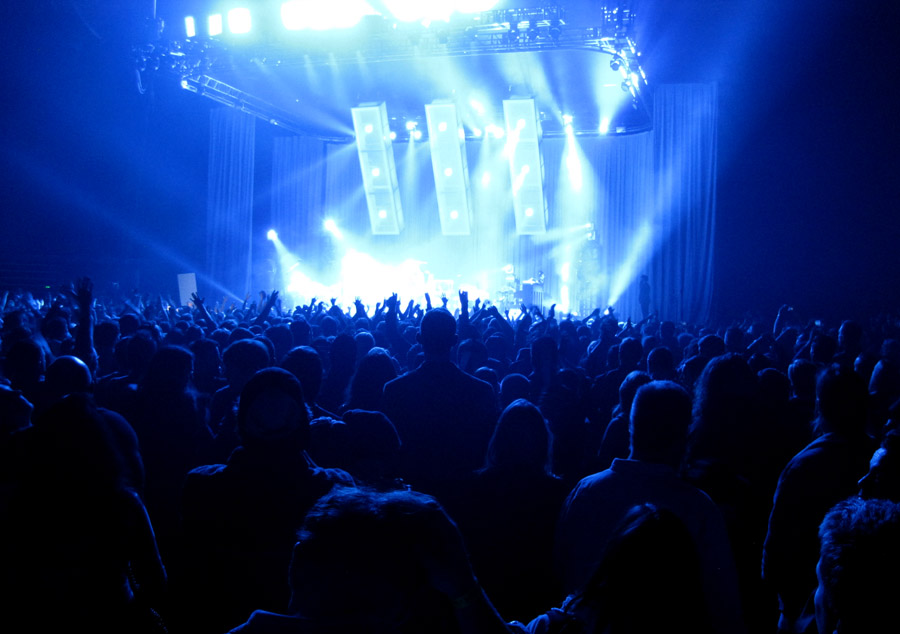 "Are you with me Nashville?" Jack White asked his hometown crowd of 18,000 people. "We're all in this together."
And I WAS there. I was in it – in that crowd, just a few heads back from the stage, and in that MOMENT. It was just another concert. What's the big deal? you might say, but no, it wasn't "just another concert." For a few reasons: first, because THIS concert had a surprise reunion of The Raconteurs; second, because country music legend Loretta Lynn joined White onstage for a pair of duets; and third, because a Jack White concert in Nashville means a trip to his Third Man Records compound down the street and, for me, this would be my inaugural visit.
So, before setting up camp in front of the stage, let us first venture a half mile south of the Bridgestone Arena to a black, yellow and red building with a radio tower on top. It's been said before, but there really is no better way to describe Third Man Records then to compare it to Willy Wonka's Chocolate Factory, with Mr. Jack White in the role of the top-hatted namesake. It's not just a store, it's a museum, and a carnival attraction – a collector's paradise, and a fan's holy land.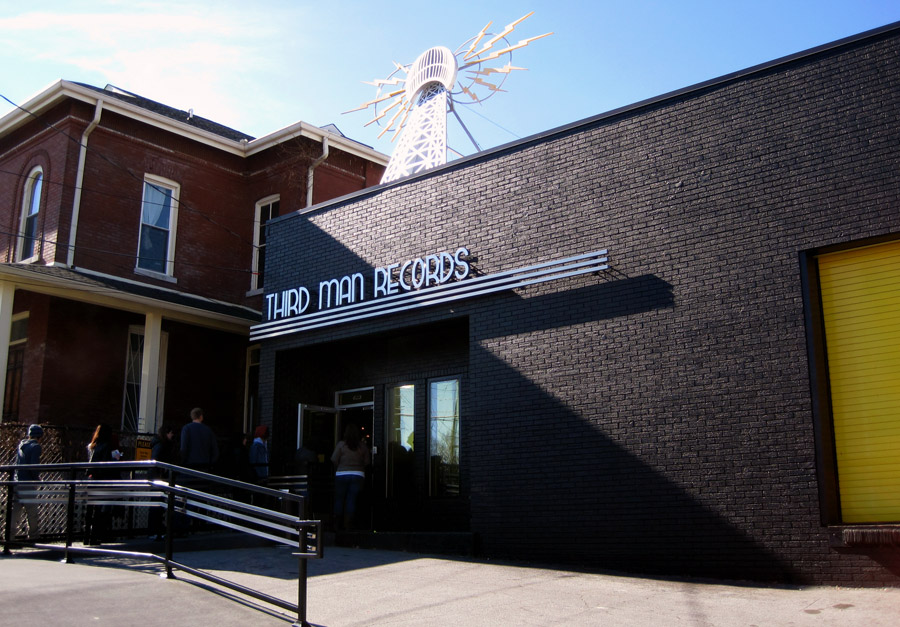 The Legos from The White Stripes' "Fell in Love with a Girl" video are on display, next to novelty gifts like a limited edition Jack White baseball card print (signed and numbered by artist Rob Jones). A hallway serves as a gallery for some of the label's most unique vinyl like a triple decker record, and the "Lazaretto" 7" which from recording to selling took less then four hours making it the World's Fastest Released Record.
Next to the vinyl bins is a working recording booth where you can pop in and make a record, or you can get a red wax mold made of Jack's infamous 1964 Airline guitar, or hop in the photo booth with the peppermint backdrop. The store has become a tourist attraction (that I drove 10 hours to step foot in), and for good reason. I could have spent hours in there (well, between my two trips, I kind of did), and I could spend hours more just talking about it, but back to the show…
Local guitar aficionado William Tyler achieved more ambiance and emotion in twenty minutes with only a guitar and some fancy pedals then most opening acts can achieve with a full band and vocalist. His instrumental songs are not just a demonstration of his impressive guitar work (which IS impressive), but landscapes of tone and feeling. "I've lived in Nashville my whole life and this is the most surreal experience," Tyler said of his stint opening up for Jack White and Loretta Lynn.
Ah, yes, Loretta Lynn. At 82 she's still a firecracker with a voice as strong as her personality. Decked out in a sequined dress she powered through a set of old favorites like "The Pill," "You Ain't Woman Enough (To Take My Man)," and "Coal Miner's Daughter."
"Shout out what you wanna hear, honey, and we'll play it," she told the fans.
At times she fumbled the lyrics, her nose was "running like a freight train" (as she joked), and she needed a chair for the second half of her set, but her voice and her charm more then made up for any technical difficulties. Before leaving the stage, she teased about singing with Jack at some point in the night.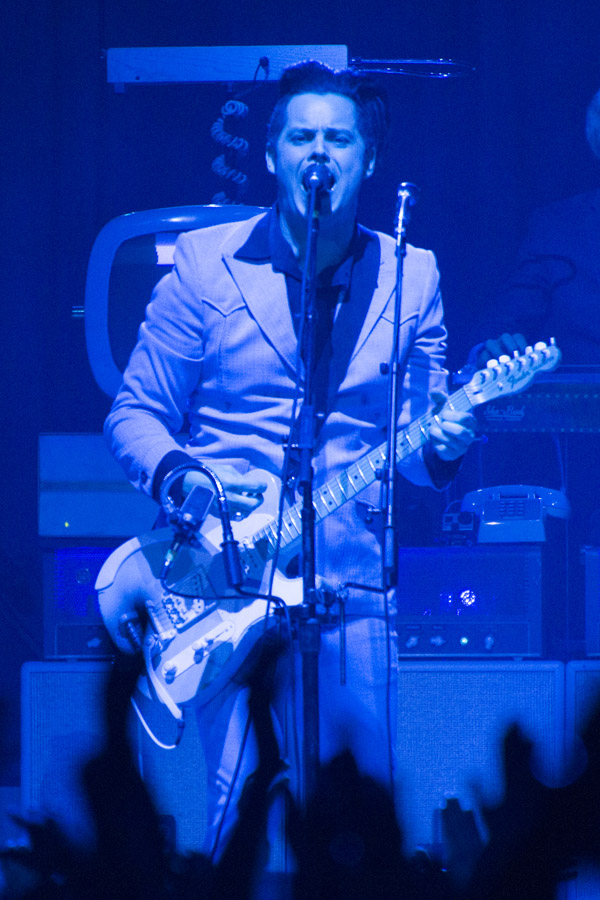 Sporting a powder blue suit and an Elvis-like pompadour, Jack White sauntered onto the stage to the sort of welcome usually reserved for rock royalty and launched into "Dead Leaves and Dirty Ground," an old White Stripes favorite guaranteed to put a little fire in everyone's veins. For the next hour the multi tasking mogul, who famously does not make setlists but instead conducts his band through his whims based on the "key" of the crowd, shattered the boundaries between country music and rock creating an in-between so tasty we should all seek to set up camp there.
Behind his incandescent guitar work and howling vocals, he's got Lillie Mae Rische on the violin, Fats Kaplan on the steel guitar and fiddle, Dean Fertita on keys and organ, Dominic Davis on bass (regular and upright), and the jazz/hip hop inspired Daru Jones on drums. Have you heard the beautiful simplicity of "Hotel Yorba" cranked up to utilize a full band? Seeing old White Stripes songs re-imagined and improvised on in a new setting, not to mention sang along at full volume by thousands of die hard fans is one of the greatest things about seeing Jack White in concert. He slides those songs into the set like a shot of whiskey in between each course of his solo material – which, if you haven't yet gotten on board with you're missing out. "Sixteen Saltines," and "Lazaretto" are a pair of the biggest, baddest, heaviest guitar songs he's ever played, and when he dials it down to quiet – as on "Temporary Ground" or "Blunderbuss" – it's just plain gorgeous.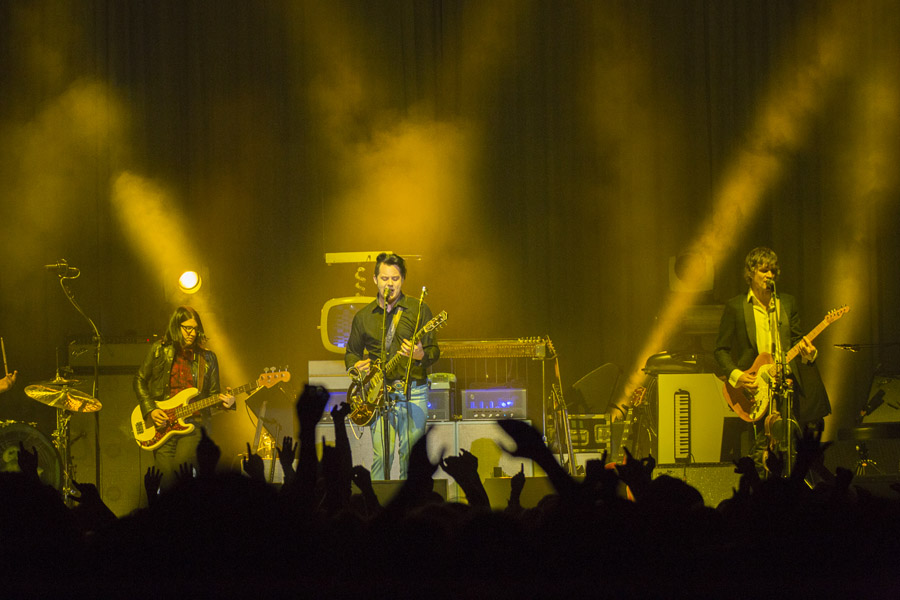 …but this show wasn't putting a big focus on the quiet. "Buckle your seat belts," a staff member at the store had told me earlier in the day in regards to the show, and what he may have been referring to was the hour long encore that kicked off with a surprise reunion of one of Jack's other bands, The Raconteurs. When the curtain parted and the blue lights that had been bathing the crowd all night flashed a blazing yellow, alongside White there stood Brendan Benson, and Jack Lawrence (drummer Patrick Keeler was the only member missing). The band haven't played onstage together since 2011, so when they charged through "Salute Your Solution" and "Steady As She Goes" the fans lost their minds!
So that was surprise number one, and it was a big one. Surprise number two happened immediately after when White's band joined The Raconteurs onstage, and then Loretta Lynn came back out. A duet of "Portland, Oregan," the Grammy Award winning song that White and Lynn sing on 2004's Van Lear Rose was anticpiated (and amazing to witness), but a second duet of the second song Lynn ever wrote was unprecedented.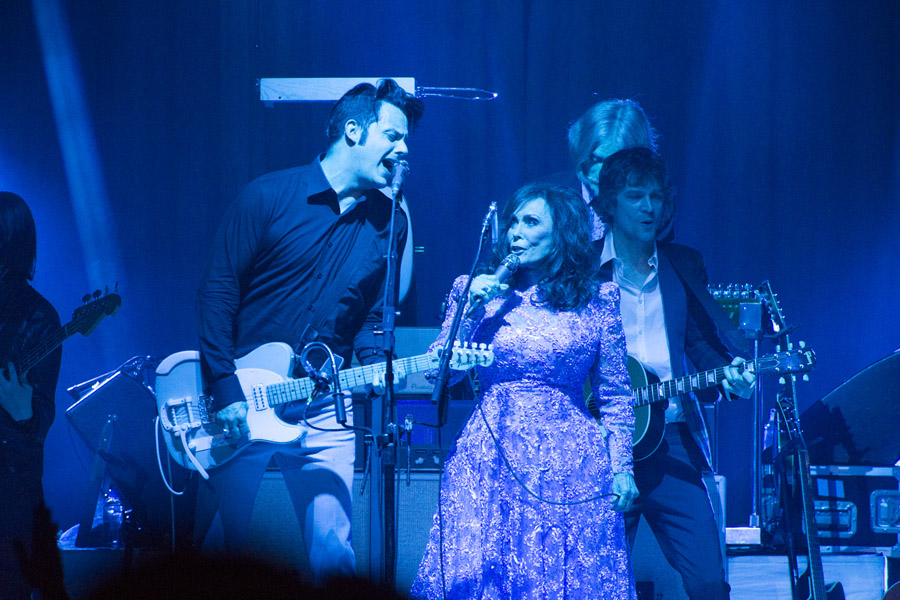 "When I asked 'Can we do 'Whispering Sea?' she says 'Ok, let's do it, baby, I ain't sung it since I wrote it.'" Jack explained. "So here we go, y'all… the first performance of 'Whispering Sea',"
After Lynn took her final bow, while Jack proclaimed her to be "the greatest female singer/songwriter of the 20th Century," another 40 minutes of raging took place, highlighted by an extended "Ball and Biscuit" that wove into a killer cover of Robert Johnson's "Stones in My Passway." The ever-crowd pleasing "Seven Nation Army" put a cap on a perfect performance, on a perfect day, on a perfect road trip to Nashville. ◼
---