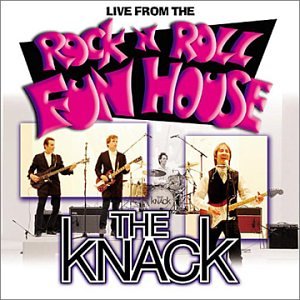 The Knack
Zoom / Normal as the Next Guy / Live From the Rock 'n' Roll Fun House (2015 Re-Issues)
Omnivore Recordings
So-Cal pop/rock poster boys, The Knack, played truly impressive "offense" throughout its 30-plus-year, "major league" career. There was the "dynasty era" – the golden seasons that birthed a 1979 "championship ring" (Get the Knack), a 1980 "divisional title" (…But the Little Girls Understand) and a respectable 11-5 season that fell just short of reaching the playoffs in 1981 (Round Trip). Tragically, The Knack got "sacked" during the 1982 season. Let's go to the instant replay footage, shall we? Uh, on second thought, maybe not. Then, after being side-lined for a full decade came the much-anticipated "comeback" season (Serious Fun) in 1991. SF followed their proven playbook flawlessly, however, it failed to put significant numbers on the board. The crowd gasps as the wide-receiver fumbles in the end zone. Simply put, within a year or so, the four players had been "sent to the showers," once again. But perennial teammates; singer/songwriter/guitarist Doug Fieger, co-songwriter/guitarist Berton Averre and bassist Prescott Niles suited-up and returned to the gridiron from '98-'02. Those seasons proved to be nail-biters – the team looked good and the "plays" were all executed properly – yet in the end, The Knack missed achieving even "wild card" status. Fortunately, for sports fans everywhere, Omnivore Recordings recovered, and has now re-released the nearly forgotten, thrilling "reels" from those glorious final seasons.
But all clever metaphors aside, producer Lee Lodyga perhaps summed it up best in the liner notes of the recent re-issues when he said that The Knack was, "more than just that song ("My Sharona"). There were other albums. And it was all good stuff." Indeed.
Released originally during the summer of 1998, Zoom, was the Knack's fifth studio album. Although the record failed at the time to fully reignite their career, it showcases arguably the band's best work since its chart-topping 1979 debut. Along with newly recruited drum veteran, Terry Bozzio; Fieger, Averre and Niles created a superb set that not only was but is worthy of the impeccable Knack legacy. And after nearly two decades, it stills sounds fresh – boasting plenty of the band's signature-style snap and tickle.
A ferocious little ankle-biter, "Pop is Dead" would have fit comfortably on Side One of Get the Knack – nestled between "Let Me Out" and "Your Number or Your Name," while "Can I Borrow a Kiss" is about as catchy and delightful as any previous Fieger/Averre feel-good. Other super-fun selections include "Smilin'," "Terry & Julie Step Out," "Harder on You" and "Tomorrow" – high-energy treasures that beam golden rays of aural light. Furthermore, Fieger's heartfelt love ballad, "You Gotta Be There," just might rank as a personal best.
September 2001 saw the arrival of Normal as the Next Guy. Produced originally by Doug Fieger and Richard Bosworth, the 2015 re-issue was produced for release by Lee Lodyga. This time around, drummers, David Hendersen and Pat Torpey join Fieger, Averre and Niles to create a collection that feels closer to their experimental-sounding Round Trip album.
The Fieger/Averre-penned "Disillusion Town" and "Seven Days of Heaven" are both fresh and crisp little pop snacks – had these tasty treats been served to a world that still possessed an appetite for such fare, they would have been bona fide radio biggies. While the barn dance-tinged "Spiritual Pursuit" and the Steely Dan-flavored "Dance of Romance" are certainly interesting stylistic departures, it's the stripped-down remake of 1991's "One Day at a Time" that shines brightest.
Captured onstage, in front of an enthusiastic audience, 2002's Live From the Rock 'n' Roll Fun House is a down-and-dirty, career-spanning, "Greatest Hits" collection. Comprised of Fieger, Averre, Niles and Hendersen, this final Knack line-up delivers a delightfully raw, on-point, high-energy performance – one packed with such staples as "(She's So) Selfish," "Baby Talks Dirty" and "Another Lousy Day in Paradise," as well as top shelf album cuts, including "Oh Tara," "That's What the Little Girls Do," "Pop is Dead," "Can I Borrow a Kiss," "Harder on You" and "Seven Days of Heaven." Along the way, the band manages to also work some of their best-known hits into the set list – hence, "One Day at a Time," "Good Girls Don't" and "My Sharona" make for a few of the record's mightiest highlights.
Sadly, The Knack have hung up their cleats for good – as the team's quarterback, Doug Fieger passed away in 2010. But what they've left us – this incredible body of work will live on forever. And thanks to Omnivore Recordings, even their "fourth quarter" classics can now be enjoyed by all.
---