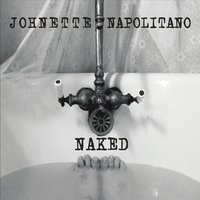 Johnette Napolitano
Naked EP
Concrete Blonde have always been one of those rare bands that got into my blood and dropped anchor. Decades have passed, lovers come and gone, and still my throat gets tight and my chest gets heavy every time I hear their songs that soundtracked so much sadness and pain. Johnette Napolitano, Concrete Blonde's enigmatic frontwoman, has a once in a generation voice that sops up the night and paints poetry with it. It's always been her voice, for me. Those Concrete Blonde songs were at their best when Napolitano's voice was given top billing, even their cover songs were epic (Leonard Cohen's "Everybody Knows" — boom! Mic Drop!).
So this limited edition tour EP, Naked, that miraculously fell in my lap is a true gift because these three spare songs are stripped to nothing but Napolitano's voice and a guitar. Opening the CD (or download, if you weren't able to snatch one of the 500 signed physical copies that were sold on her Spring Tour) is "Here," a heartbreaking ballad on par with "Tomorrow, Wendy" in its raw naked ache. Honestly, this EP could have been just this one song three times and it would still be a masterpiece. This is the kind of song that songwriters spend a lifetime trying to write.
"Memory Go" is another heart cruncher that's slow and full of yearning. This one's got a little echo and reverb on the guitar that is reminiscent of R.E.M.'s "Let Me In." The song was written from a sickbed and recorded into a voice memo app. Imagine that for a moment: Johnette Napolitano, with all of her old worldly gothness, using a smart phone app to make music!
The last song is a sexy blues groove called "Jazz On Vinyl" that began as a poem. It's got a steady riff and vocals that go from bedroom talk to her signature soar. The riff rides us out and the EP is over in less than 9 minutes. Repeat, repeat, repeat until the full album comes at the end of September.
---