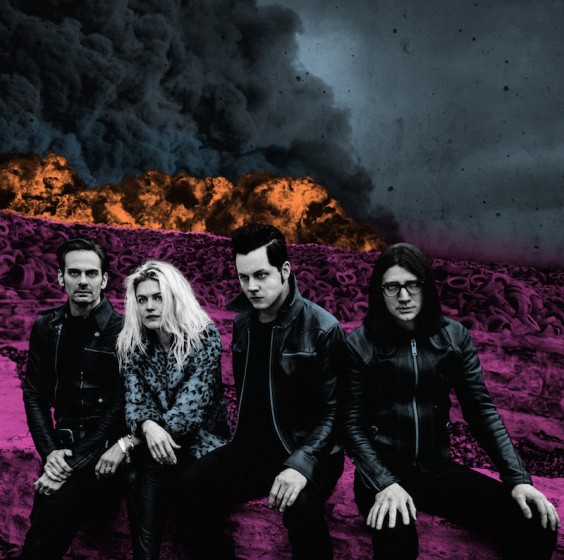 The Dead Weather
Dodge and Burn
Third Man Records
When The Dead Weather formed, back in 2009, I kinda thought my head was gonna explode. Jack White was taking a back seat (literally – he's the drummer) to Alison Mosshart, the reptilian rock goddess who fronts The Kills, and making music that sounds like an audio expression of lust and delicious sin? It was as if those two, along with Dean Fertita (of Queens of the Stone Age) on guitar and Jack Lawrence (The Raconteurs) on bass, siphoned an unrealized dream from my subconscious and made it a reality. It may sound like an exaggeration, but it's the truth.
The one-two punch of Horehound and Sea of Cowards followed on one another's heels, and then nothing. For 5 years the band members went about their business in a million other bands and projects and aside from a pair of limited edition 7" singles released to Third Man Vault members over the last two years, there's been no more Dead Weather.
Until now. Dodge and Burn compiles the four previously released songs and eight more psychically scorching tracks never before heard. The result is the band's most accessible, and most cohesive album to date.
A siren sounding guitar riff and a steady drum beat kicks off the cherry bomb first single "I Feel Love (Every Million Miles)", before slinking into the sultry back alley make-out of "Buzzkill(er)." For those unfamiliar with the band, Mosshart has muscled out White for lead vocal duties with Jack popping up only in parts to back her up. "Three Dollar Hat" is the exception, bringing the ringmaster out front on a slow building hip hop groove that feels like the continuation of "Carolina Drama," a tragic blues tale he spun with The Raconteurs. With "Three Dollar Hat" the style moves from a morose rap atop a Metallica-like riff, into a psychedelic spiral that Mosshart takes on, before sliding back into White's darker groove. Somehow it not only works, but it stands out as a bold highlight.
"Rough Detective" and "Cop and Go" are another pair of sweaty firecrackers, but "Mile Markers" is the sky igniting finale. With it's marching band drums and the secret weapon that is Alison Mosshart's vocal delivery, it is the kind of song that would bring the house down in concert. Too bad they don't plan on touring for this release.
Speaking of Mosshart, and bringing the house down, "Impossible Winner" is an aching ballad she serenades us with at the album's close. It's the closest The Dead Weather have come to penning a show-tune – it's got that epic pull and cinematic reach that begs for a visual story. The Dead Weather on Broadway? Why not? Maybe that's a loophole for the "The Dead Weather will not be touring to support this album" caveat that came with the press release. It's not a tour if it all stays in the same place, guys. Just saying.
---