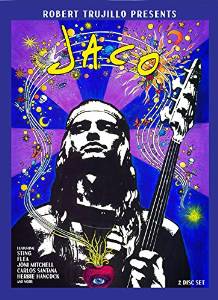 Jaco
Directed by Mr. Paul Marchand and Stephen Kijak
starring Jaco Pastorius, Sting, Flea, Robert Trujillo, Wayne Shorter, Joni Mitchell
Iron Horse/MVD Visual
Jaco, the long-awaited documentary on Jaco Pastorius produced by Metallica bassist Robert Trujillo avoids mythologizing its subject with an even look at Pastorius life, warts and all. And really, how does one make more fabled a man who introduced himself as "the worlds greatest bassist"- and as the famed baseball legend Casey Stengel said, "If you can do it, it ain't braggin'."
And Jaco could. He is one of those singular musicians – think Miles, Stevie Ray Vaughn and Hendrix- that's identifiable almost by a single note. Pastorius took the electric bass places it had never been before, as Sting says in the film – "We all stand on Jaco's shoulders". His horn-like phrasing, the tone he got from his fretless Fender Jazz bass and his sense of melody is still, like Jimi, above and beyond other players, and any attempt to cop his style sounds, in the end, like a pale reflection of his gifts. He began his musical career in South Florida, a son of a nightclub performer, and early on his talent was evident. He played constantly, and when he wasn't playing, he was listening. From the Cuban big band sounds that swirled around him to a stint in Wayne Cochran and the CC Riders-funk review, he absorbed it all, and when he played, it all came out in a funky, Latin-derived melange of musical invention.
His first, self-titled album came about when Jaco made his standard greeting to the drummer for Blood, Sweat and Tears Bobby Colomby who, once he stopped laughing and listened, realized that the cheeky kid (Jaco was 24) wasn't lying, and got him a record deal. By the time Jaco made it to New York to record, he had his pick of top-level players to choose from, including Herbie Hancock, Lenny White and Wayne Shorter. His debut is considered on of the greatest bass records ever, and was his introduction to Joe Zawinul and Weather Report, which Jaco joined and went on to record eight records, littered with his own contributions including "Teen Town" and "Havona" that have become standards.
But Jaco was his own worse enemy, and suffered from an late diagnosis of Bi-Polar disorder, a condition that led him to substance abuse, erratic behavior, a stint in Bellevue, and finally, a savage beating by bouncers at a Florida nightclub that left Jaco in a coma, where he suffered a massive brain hemorrhage that led to brain death. He died penniless, at one point playing "Louie Louie" for change on the streets of New York. Joni Mitchell, with whom Jaco toured on the Shadows and Light album, recounts in the film the last time she saw him, playing in a club, obvious to the world around him. It was a sad end to one of the great musical geniuses of all time, but like Charlie Parker or Bud Powell before him, he couldn't outrun himself.
The film is packed with performance footage, and watching him play is still a jaw-dropping experience. No one ever made a bass sound so musical, or haunting, as Jaco. And in the end, that's all we need to remember.
---