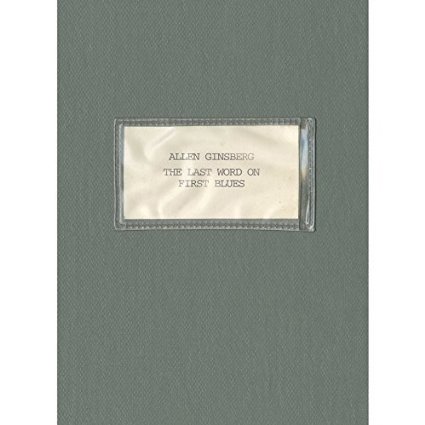 Allen Ginsberg
The Last Word On First Blues
Omnivore Recordings
Allen Ginsberg (1926-1997) was many things: Genius poet, activist, a founding member of the Beat Generation and on First Blues (recorded starting in 1971, originally released in 1983), a folk singer. Enlisting some famous friends (Bob Dylan, David Amram and Happy Traum on banjo), along with famed producer John Hammond on some cuts, Ginsberg took his love of language- and a deep appreciation for the blues and folk music to create a free-wheeling double LP. The Last Word On First Blues expands this effort with a bonus disc of demos, live cuts and more.
If you're familiar with Ginsberg at all, the themes of First Blues will be in keeping with his written output, albeit in a shorter form. From hedonistic abandon ("Hardon Blues", You Are My Dildo" and more) to politics ("Stay Away From The White House" and "CIA Dope Calypso") to his beloved New York City, Ginsberg found poetry in everyday life, and what was created from it was brilliant, profane and in some eyes, indecent. In fact, Columbia Records refused to release First Blues in 1976, calling it "obscene and disrespectful". It was, but that was beside the point.
Because Allen Ginsberg (and others in the Beat movement, such as Jack Kerouac and of course William Burroughs) found the world at times obscene- as all right thinking souls must- and they wrote about it in graphic language. Even those that turn up their nose at poetry can recall the famous opening of Ginsberg's early masterpiece, Howl– "I saw the best minds of my generation destroyed by madness, starving hysterical naked", and while First Blues is a record of folk songs, his poetic use of language permeates, and his enthusiasm is clearly evident. Granted, he was at times ribald, but on moments such as "Tyger" or "Father Death Blues" his innate sense of meter recasts his poetry into song, and gloriously. A worthy edition to Ginberg's canon, The Last Word On First Blues is the definitive look at this example of Allen Ginsberg's genius- and is really quite fun.
---