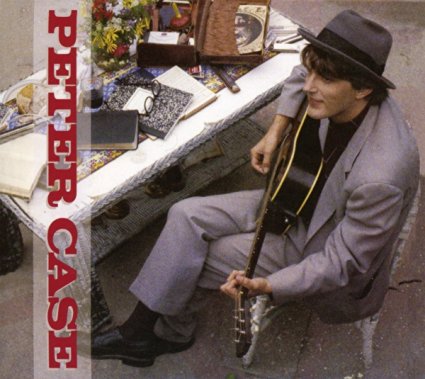 Peter Case
S/T
Omnivore Recordings
Peter Case grew up on rock and roll – dropping out of high school at 15, casting his fate on the road. In 1976 he was one of the founders of The Nerves, who's "Hanging on the Telephone" became a hit for Blondie. Once The Nerves broke up in 1978, Case formed The Plimsouls, who will be forever remembered for the song "A Million Miles Away", a power-pop classic that still charms, all these years later.
In 1986 Case released his self-titled solo record, and one guesses that years of being in the biz allowed Peter to boast of the cast assembled for it. Produced by T-Bone Burnett and Mitchell Froom, and featuring some really big names such as Roger McGuinn, drummer extraordinaire Jim Keltner, Gurf Morlix, Mike Campbell (Tom Petty), John Hiatt, Van Dyke Parks (who did orchestral arrangements to great effect), Fred Tackett and Victoria Williams, who co-wrote "Old Blue Car" and "Satellite Beach", the record was smart, witty and rocking, and even today, when other '80s landmarks sound tired and dated, Peter Case still sounds fresh.
Opening with "Echo Wars" and "Steel Strings", the 12 cuts dig deeper than most of the period, which could explain why the album has such devoted fans, almost 30 years past its arrival. Case's way of looking at the foibles of his fellow man, such as on "More Than Curious" are both insightful and wry, and in the case of "Small Town Spree", in which a minor criminal goes a bit too far, somewhat chilling.
Peter Case has long been one of the best singer/songwriter's around- his latest, Hwy 62 from 2015 is a complete gem that shows that he's only gotten better over the years. Although listening to Peter Case, you really can't see how he could ever best it. This reissue adds 7 bonus cuts, including 3 songs not on the original. It's all compelling stuff.
---