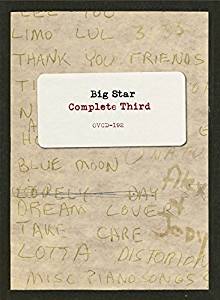 Big Star
Complete Third
Omnivore Recordings
It was the "final" Big Star recording- except it wasn't. Recorded by Alex Chilton and drummer Jody Stephens at Ardent Studios in Memphis in 1974, and produced by Jim Dickinson, the record stayed unreleased until 1978. It has been known as 3rd, The Third Album and Sister Lovers (Chilton and Stephens were dating sisters, Lesa and Holliday Aldredge during its recording), the record is thought of more as a Chilton solo record and was largely ignored – by the public and Chilton himself – once it was done. But over the years the stature of the work has grown to the point of this 3 CD box set Complete Third.
Bob Dylan is noted for remarking on his brooding, anguished masterpiece Blood on the Tracks thus: "A lot of people tell me they enjoyed that album. It's hard for me to relate to that- I mean, people enjoying that type of pain." One suspects that Alex Chilton most likely thought the same about Third. Whereas the first two Big Star releases – #1 Record and Radio City were crammed full of power pop classics ("September Gurls", "Thirteen", "I'm In Love With A Girl"), Third is a morose, haunting work, reflecting Chilton's fragile and belligerent state of mind. With songs such as "Holocaust", the barbiturate-fueled "Downs" and what might be the grimmest Christmas song ever, "Jesus Christ", this is not a fun record. Chilton performed much of the record solo (including a beautiful version of the Beach Boy's "Don't Worry Baby" with Alex harmonizing to himself) or with Lesa Aldredge, and left the aftermath up to Dickinson and Ardent head John Fry to try and do something with. The second disc features rough mixes by both, included a host of material not including on the originally released version, such as "Whole Lotta Shakin' Goin' On" and "Manana".
Omnivore and executive producer Cheryl Pawelski are to be commended for the effort that went into this set, assembling demos, false starts and alternate versions to come up with the definitive collection of Third. It's a record that will affect you deeply if you allow it- if you're in a certain frame of mind. It is not, by any means, an album for happy people, because in part due to the mental state of its creator, Alex Chilton. From the melancholy "Kanga Roo", the dreamy "Big Black Car" or the bizarre "O, Dana", Chilton most likely took the meaning of the record to his grave, but it stands, in whatever form, as one of the greatest works of art in rock, beloved by devotees, and still performed today by the last remaining Big Star member Jody Stephens as "Big Stars Third", with guests such as R.E.M.'s Mike Mills. Harrowing and disturbing, it's a masterpiece. Proceed with caution.
---