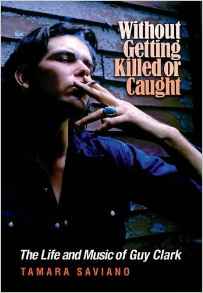 Without Getting Killed or Caught: The Life and Music of Guy Clark
by Tamara Saviano
Texas A&M University Press
Guy Clark was the archetype of the Texas songwriter. His songs are legend- "L.A. Freeway", "Dublin Blues", "The Randall Knife" and scores more. He lived a life of strength, compassion and grace- tempered with a strain of self-destructive behavior. Long time music journalist Tamara Saviano has given us a wonderful look into Clark's life and times that in the end shows the true measure of Guy's gifts- and faults. But its more than just a remembrance of one man, because you can't tell Clark's story without also telling of his wife, the artist and songwriter Susanna Clark and their mutual best friend, the doomed Townes Van Zandt.
Growing up in Monahans, Texas, a young Clark was befriended by a local oil driller named Jack Prigg, who became the subject of one of the most beloved and covered of Clark's songs, "Desperados Waiting On A Train". His early musical influences were Texan bluesmen- the fiery Lightin' Hopkins and the great Mance Lipscomb, from whom he developed his steady fingerpicking guitar style. Saviano's account of his early days is both absorbing and illuminating, informed by a wealth of Clark family recollections.
But it's her examination of the relationship between Clark, Susanna and Townes that forms the bulk of the book, and she shows the love, the pain and the ultimate effect the three had on each other. Guy and Susanna fell in love in the aftermath of her sisters Bunny suicide- Clark and she had been dating- and once he introduced her to fellow songwriter Van Zandt, the three created a bond that was never broken even in death. When Townes died in 1997 Susanna never really recovered, keeping to her bed until she died of cancer in 2012. It was a tempestuous relationship- all were prone to extremes of behavior, brought about in some fashion from alcohol, drugs and their own inner demons.
Guy Clark's life and career were marked by his absolute refusal to bend. Not to record companies, producers, fellow songwriters, or friends. He was a poet whose spare wordplay speaks volumes – such as "She ain't going nowhere/She's just leaving" – and he was a master of capturing emotions in a few lines. His body of work stands as a pinnacle of songcraft, only equaled by his best friend, Townes. The story of his life, with numerous asides from fellow artists such as Rodney Crowell, Steve Earle, Emmylou Harris and more is lovingly told by Saviano, who doesn't flinch from the more unseemly aspects of Clark's life but rather paints a full and fair look at one of America's greatest poets and songwriters. Even as the book draws to its sad conclusion with Guy's death in early 2016, you don't weep – much – but rather salute a remarkable man who's creations we've all been better off having experienced. Without Getting Killed or Caught is a warm look at Guy Clark's life and the impact he made, and Tamara Saviano has crafted one of the best memoirs in recent memory.
---