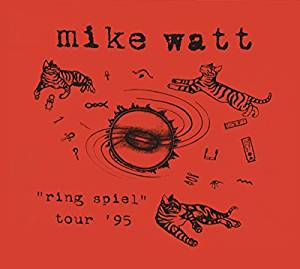 Mike Watt
"Ring Spiel" Tour '95
Columbia Records
After being a part of the pivotal punk pioneers The Minutemen and fIREHOSE, bassist Mike Watt released his first solo record, Ball-Hog or Tugboat in 1995 and went out on tour to promote it. "Ring Spiel" Tour '95 documents his appearance at the Metro in Chicago, and to quote Watt, "it's a mindblow".
Ball-Hog featured a cast of punk rock legends (including Henry Rollins, J Mascis, Flea, et al) and Watt brought some of them along as his backing band. Dave Grohl, post-Nirvana/Pre- Foo Fighters is here on guitar, drums and vocals along with ex-Germs (and future Foo) Pat Smear on guitar, Eddie Vedder on guitar and William Goldsmith (Foo Fighters) on drums and together they make such a glorious racket. Opening with a tender take on Daniel Johnston's "Walking the Cow", the energy level is turned WAY up on "Big Train", with Smear's hyped-up slide guitar leading the way. Next up is "Formal Introduction" from the last fIREHOSE album, 1993's Mr. Machinery Operator, which blasts into Watt's "big hit", the Eddie Vedder-sung "Against the '70s".
The rest of the show ranges from Ball-Hog tunes, including "Piss-Bottle Man", Watt's song about his father and "Chinese Firedrill" to choice Minutemen tunes including "Political Song for Michael Jackson to Sing" from their landmark Double Nickels on the Dime. Vedder debuts "Habit", an early Pearl Jam number, while Pat Smear croons "Secret Garden" from Madonna. Blue Oyster Cult's "The Red and the Black", a Watt favorite from the Minutemen days is savage, with Dave Grohl expertly handling lead guitar. Thru it all, Watt's nimble, growling bass sets the stage, and his bandmates give ample support on a ragged, spirited night. From his early days in the California punk scene, to holding down the bottom with The Stooges, Mike Watt has taken his "thudstick" to great heights. Not bad for "the corndog from Pedro". Long live Mike Watt.
---