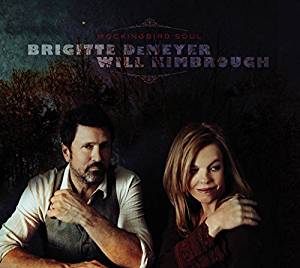 Brigitte DeMeyer / Will Kimbrough
Mockingbird Soul
BDM Music
I've been a Will Kimbrough fan since I saw his early band Will & the Bushmen way back in the '80s. His sharp songwriting and ace guitar playing never fails to delight, be it in the Alabama supergroup Willie Sugarcapps, or alongside Tommy Womack in Daddy, or behind the mixing board as producer for Todd Snider's brilliant East Nashville Skyline from 2004. DeMeyer I wasn't as familiar with but she runs in a good crowd- she toured with blues legend John Mayall, and made solo records with drummer Brady Blade and Kimbrough.
But's it's not until now that the two decided to put both their names on an album, and the wonderful Mockingbird Soul is the result, and it's as good as you'd expect. The record is low-key and acoustic, with Will and Brigitte joined by bassist Chris Donohue. The sound is warm, inviting and soulful in a mix that ranges from the funky "The Juke" to "Running Round", led by Kimbrough's fancy fingerpicking. James Woods, from Atlanta's Wood Brothers adds some nimble upright bass on "Rainy Day", while DeMeyer and Kimbrough sing as one on the magical "Little Easy", sounding a bit like this generations Emmylou and Gram.
"Honey Bee" is a playful, bluesy strut, with DeMeyer giving the great Maria Muldaur a run for her money on lyrics such as "You could pour yourself a cup of me…". The record ends with a take on the Incredible String Band's "October Song", an audacious choice perhaps, but one that the pair perform with ease. In fact you could say that Mockingbird Soul is twelve cuts of easy magic, with two great artists playing off one another in pure joy. Seek this record out, it can cure what ails ya.
http://www.brigittedemeyer.com, http://www.willkimbrough.com
---