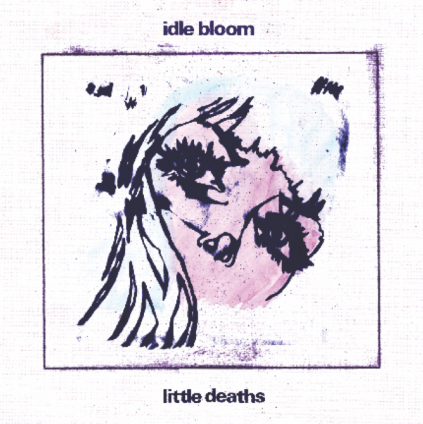 Idle Bloom
Little Deaths
Fraternity As Vanity
The frustrated sweetness that rips from frontwoman Olivia Scibelli, barely blanketed beneath the distortion play of guitar and the controlled chaos of the rhythm section, makes Idle Bloom's full length debut sound like Saturday night in the bedroom of a teenage in 1996. Picture magazine clippings from Sassy, SPIN, and whatever underground 'zine was available in said teenager's hometown, adorning the paint chipped walls. CDs and cassettes strewn across the dresser, the bed, the floor with all of the alternative rock queens represented in their underdog glory – that dog., Sleater Kinney, Veruca Salt, garbage, Team Dresch. This is just a peek into the sound of Little Deaths, for further understanding visit their current day peers who have also found a way to make that 90's sound pop brightly in the modern world: Bleached, Upset, and Daddy Issues.
Make no mistake, this isn't just a nostalgic ride into the yesteryears of flannel and Mary Janes. Idle Bloom have got the goods. "Sleeper" and "Diamond Mind" both slink and creep with a sunkissed heat that lures you in before burying you in glorious fuzz. "Lost Cause" is a ballad for the broken hearted, and "Hive" is the shaken soda bottle that just popped its top. It's all alternative nation deliciousness on Little Deaths, but the central track here is "Dust" whose ability to sound both heavy and soft; light and dark; seductive and vulnerable all at the same time shows a complexity that goes way beyond mere mimicry of the past.
I can't wait to hear these songs played live. They beg for it.
---