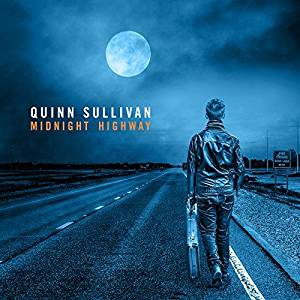 Quinn Sullivan
Midnight Highway
Provogue/Mascot Label Group
When you're Quinn Sullivan and you've been playing guitar since age 3, then get discovered by Buddy Guy and work with some of the best talent in the music biz, there's really no place to go but up. At 17, Sullivan has released his third record, Midnight Highway, and it truly encapsulates how he has matured as a guitarist and singer. Other than one Beatles/George Harrison cover, the 13 cuts were all written or co-written by industry icon, Tom Hambridge, who also played drums on and produced this collection as well as Sullivan's second one, Getting There. Backed by a who's who of Nashville session players including legendary keyboardist Reese Wynans and guitarist (and cancer survivor) Bob Britt, among others, Sullivan has created something that crisscrosses between blues, funk and pop, begging the question, which one will it be? This mixing of musical styles seems to be the current trend with many artists, and sometimes it works, sometimes it doesn't.
"Something For Me" starts it off with down and dirty blues that feature Sullivan's understated yet tasteful licks and Wynans' killer keys, both which permeate the record on the blues tracks. It is essential to note that the 17-year-old phenom does not try to overplay, which is a testament to Hambridge's guidance. Switching gears abruptly, the next song, "Tell Me I'm Not Dreaming," is about as pop as it gets, in fact, it could likely go Top 40 without a hitch, as could "Crazy Into You, " "Eyes For You" (with backing harmonies from Hambridge's daughter, Sarah), "She Gets Me" and "Going." It's a bit Bieber rather than Buddy, and this back and forth encompasses the whole album. There are some standout numbers including the title cut, "Midnight Highway," with a country blues sound, and some songs with funky grooves including "Lifting Off," "Rocks" and "Graveyard Stone." "Big Sky," a lofty instrumental with a dreamy quality is paired with another instrumental, "Buffalo Nickel" with hints of Marshall Tucker Band's "Can't You See" at the beginning. The cover of George Harrison's "While My Guitar Gently Weeps" seems a bit out of place but certainly showcases some stellar guitar work.
Overall, this is a great offering from an artist who has a long and fruitful career ahead of him. It's tough to make the transition from child musical prodigy to adult musician, but if Sullivan plays his cards right and stays his course, he will find continued success, especially with the support of so many influential and talented leaders in his corner.
---